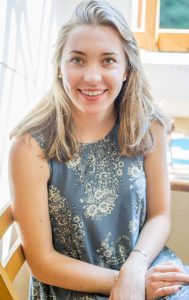 A native of the Pioneer Valley, Brittany Collins graduated from the Campus School in 2008 before attending the Williston Northampton School and Smith College. She has published writing with English Journal and Literacy & NCTE, of the National Council of Teachers of English; Insight, of Dana Farber Cancer Institute; The Mighty; and Voices & Visions. The editor-in-chief of the latter, her editorial work was profiled by Ms. magazine and shared by the National Museum of Women in the Arts, as well as Gloria Steinem. She spent a morning wandering the halls of her alma mater and writes, below, of her return.
It feels like returning home after the first semester of college—warm, familiar, and necessarily changed.  As I drive into the round-about of the Smith College Campus School, I am transported to my days in the backseat—to Radio Disney sing-alongs and afternoons of "Safety Duty" when, in sixth grade, I donned an orange vest and opened van doors for parents and their backpacked children.  I can almost hear the excitement of those afternoons on the portico as I pull into a parking space.  And when I step out of my car, I am greeted by others' giggles.  The climax of recess unfolds before me.  It smells of fallen leaves, and an array of vests and jackets lays strewn across the wooden fence.  Students call from creaking swings as their friends play flag-football on the lawn.  The bouncing of rubber balls on blacktop forms a resonant staccato, and I smile as one third grader adjusts her stilts and wobbles toward the basketball net—an activity that I, too, enjoyed when this was my playground ten years ago.
The doors of the Campus School are still painted a friendly teal.  As I enter, a handwritten sign offers welcome.  I am later told that this epistolary greeting is written every morning, inviting students' responses to a question or fun fact.  One sign showcased lines from a Mary Oliver poem:
"Pay attention.
Be astonished.
Tell about it"
–three dictums that seem particularly apt for my returning to the Campus School.
To gather myself amid the familiar and new, I begin my day with a tour of the halls.  The walls of this school once held my paintings, once structured my growth, and I am eager to learn what of them has changed– and what has endured.
Paradox imbues experiences of returning; in her article "Reflections on Portraiture: A Dialogue Between Art and Science," educational portraitist Sara Lawrence Lightfoot writes of "fundamental polarities" and the "convergence of opposites" (8), a conception echoed by Parker J. Palmer who writes in The Courage to Teach that "practicing paradox" and "holding the tension of opposites" elicits holistic learning opportunities for teachers and students alike.  I reflect on the pulls of both past and present; tradition and innovation; stasis and fluidity as I round the corners of SCCS, directing my "attention" to that which lends "astonish[ment]."
Keeping Lightfoot's idea of portraiture in mind, I am pleased to find a wall filled with vibrant cray-pas drawings.  "Abstraction," their signage tells me, is the theme of this second grade art unit, inspired by the works of Georgia O'Keefe.  Yellows and blues form their own paradox, jumping from construction paper in lines curved and rigid.
The entry-point of the third and fourth-grade corridor continues a blue colorscape, establishing an aquatic sense of flow.  My time as a student was filled with echoes of the third grade river unit—lessons in which students explored ponds and streams, learned about creatures and water conservation.  The year-long unit continues to define third graders' school year.  Water-related art by Kurt Walters (left) and Paul Klee (right) carries visitors along their own "water tour," establishing a sense of traveling upstream—ascending from third grade to fourth, journeying through waters like the koi in those paintings while floating, also, amid the "here and now" like lily pads.
As pictured, students' decorated name tags adorn gray lockers throughout the hall– a rough-and-tumble gallery of the exuberance of childhood.  During my first day as a student in Ms. Ananda's class, I too created a locker tag; colored pencil horses and hearts surrounded my name, written in the black fine-point marker that remains a staple in classroom creations.
As I reach the estuary of the corridor, I journey toward that of kindergarten.  Students file in from recess, whispering about monkey tag and tugging at their jackets.  The kindergarten floor carries much continuity.  Just as third graders explore water ecosystems and biodiversity, kindergarteners learn about the natural world through caterpillars, butterflies, and metamorphosis; a large collage displays varying stages of insect development, and students' drawings portray understandings of anatomy.  A kindergarten art unit on texture offers techniques that bolster scientific drawings.  Leading me toward the art room, students' works offer a glimpse of the ways in which interdisciplinary inquiry informs all that students make and learn.
Entering the art studio, I am greeted again by artist Paul Klee:  "A line is a dot that went for a walk," his quote reads in front of a display of yarn doing just that.  Lines and dots; texture and abstraction; attention and observation; the themes of SCCS art projects undergird the whole of students' curricular experiences.
In corners and crevices, humor reveals itself.  Smiley faces play hide-and-go-seek.  Students are happy here.
Units evolve, but their ethos remains.  This lab school is a place of revelation.  A place in which children are not students, but artists; scientists; inventors; creators.  This is a place of excitement and wonder; challenge and growth; collaboration.
Together, we at the Campus School become.
There is nothing like the world that waits behind teal doors to remind me of my origins, my future.  As I turn off the studio lights and return to the hallway, I recall again the words of Mary Oliver, this time from her poem "Wild Geese."  Whether you are six, twenty-one, or sixty-five, the Campus School "offers itself to your imagination/calls to you like the wild geese…/over and over announcing your place/in the family of things."
Brittany playing kickball at "Grad Games" in '08 (left) and crafting a rebuttal as a "teacher" in a mock-trial debate on child labor in Lara Ramsey's sixth grade (right, with '08 alums Brendan Hellweg, Ezekiel Baskin, Ben Landry, and Tory Kolbjornsen).
Works Cited, in order of appearance:
Oliver, Mary. "The Summer Day." The Summer Day, by Mary Oliver – Poem 133 | Poetry 180: A Poem a Day for American High Schools, Hosted by Billy Collins, U.S. Poet Laureate, 2001-2003 (Poetry and Literature, Library of Congress), Library of Congress, www.loc.gov/poetry/180/133.html.
Lawrence-Lightfoot, Sara. "Reflections on Portraiture: A Dialogue Between Art and Science." Qualitative Inquiry, vol. 11, no. 1, 2005, pp. 3–15., doi:10.1177/1077800404270955.
Palmer, Parker J. The Courage to Teach: Exploring the Inner Landscape of a Teacher's Life. Jossey-Bass, a Wiley Brand, 2017.
Oliver, Mary. "Wild Geese." Poet Seers , www.poetseers.org/contemporary-poets/mary-oliver/mary-oliver-poems/wild-geese/index.html.