Lorna Simpson
Lorna Simpson is an African-American photographer and multimedia artist. Much Lorna Simpson's work was heavily influenced by the feminist movement of the 1980s. Black artists, specifically black female artists, during this time were a crucial aspect of highlighting the black experience. Simpson focuses on producing art that is centered on the black female experience while exploring stereotypes of race and gender. Simpson, who identifies as a feminist, produces work that is very reflective of the cultural environment of her time.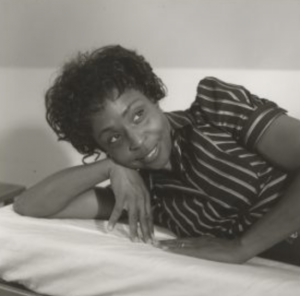 Lorna Simpson 2009 © and courtesy the artist
Simpson is often seen employing the concept of juxtaposition as a means of reclaiming black identity and the black experience. In much of her work, this juxtaposition typically works to contrast photographs and text. Simpson often utilizes text to reveal oppressive ideologies but contrasts the text with photographs that disrupt and resist those same ideologies. Lorna Simpson's classical piece The Waterbearer (1986) is an example of one of Simpson's pieces that employs the concept of juxtaposition to reclaim the black experience.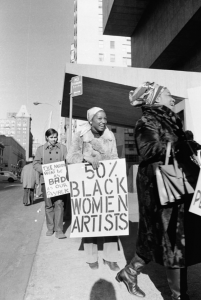 Jan van Raay, Faith Ringgold (right) and Michele Wallace (middle) at Art Workers Coalition Protest, Whitney Museum, 1971© and courtesy the artist
Waterbearer- 1986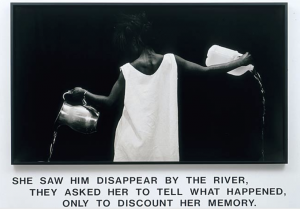 Lorna Simpson, Waterbearer, 1986
© and courtesy the artist
The dark-skinned woman in the photograph is depicted wearing a loose-fitting white dress while pouring water out of two pitchers. The dress, which fails to reveal any indication of the woman's figure, serves as a significant reflection of the 'politics of respectability'. These politics, which were employed in many black communities, policed the expression of sexuality in black women by confining them to strict conduct and behavior.  Simpson's choice to shield the identity of the woman provides the woman with authority over her own identity and livelihood. The viewer is unable to ascribe traits to the women as her face is concealed from the audience. 
However, these feelings of authority and control are suddenly juxtaposed with the text that follows.
"She saw him disappear by the river,
they asked her to tell what happened,
only to discount her memory."
The text, which contains only 19 words, appears to undo the innocence and simplicity of the image above. The language ascribes authority to the woman as she narrates her coherent story but as the last five words of the text indicate, the environment in which the woman inhabits appears to deny her of that same authority. The woman's story is short and concise but incomplete. Simpson provides only a portion of the woman's story as a means of reclaiming the black experience as one that is unbeknownst to all. Simpson utilizes the juxtaposition of photographs and texts to center the black female experience and contrast the realities of the black female experience.
Please continue by clicking the arrow: