About the Fellowship (Fall 2023)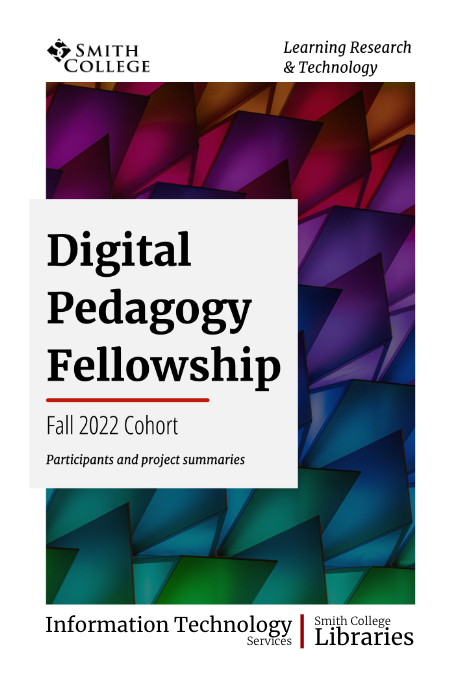 The Digital Pedagogy Fellowship provides a practice-based professional learning experience for Smith faculty who are seeking to incorporate technology into their teaching and create innovative digital scholarship with their students. The fellowship includes a two-day summer institute program (Aug. 30-31, 2023), monthly meetings with fellowship participants during the fall 2023 semester, and a showcase for the Smith community in early 2024. Faculty will have the opportunity for hands-on training with staff partners and digital innovation spaces, build their digital fluency and engage in a community of practice with other faculty to enhance their teaching in meaningful ways. Fellowship recipients will receive a $500 research grant awarded at the completion of the program in Spring 2024.
Due Date for New Smith Faculty: Proposals by new Smith Faculty are due by August 1, 2023. Applicants will be notified of their acceptance by Aug. 8, 2023, and will need to confirm their participation by Aug. 15, 2023.
Possible Directions for Your Class's Digital Project
Media Production
Podcasts, digital stories, short documentaries
VR Experiences
360 Video, Virtual Tours
Digital Exhibits & Data Visualization
Curating student research into an online exhibit for a public audience.
Web & Graphic Design
Designing other interactive media to showcase student scholarship.
And things we haven't thought of yet!
Is there something we aren't listing above that you're interested in exploring with your students? Consult with us before submitting your application.
Questions? Please contact Travis Grandy, Assoc. Director for Learning Research and Technology (tgrandy@smith.edu)
---
Instructions to Apply
Please attach your purpose statement and project proposal in a single document (Google doc, Word Doc, or PDF).
Purpose statement (Up to 500 words): This fellowship experience is intended for faculty at all levels of experience incorporating technology into their teaching. Describe how your participation in the fellowship will benefit your personal, scholarly and/or professional development.
Project proposal (Up to 500 words): Describe a new project, unit or assignment that you would like to develop for your course in partnership with Learning Research and Technology. Please include a description of your preliminary learning objectives, what specific kinds of work you expect students to do, how this work builds on or enhances work in your class or discipline, and which staff, spaces and resources in Neilson Library and Alumnae Gymnasium that you expect to work with.
Designate the course for your project: Please designate at least one course being offered at Smith College during the Fall 2023 semester where you are the primary instructor. Non-credit courses will not be eligible.
If you would like to consult about your proposal before applying, or have other questions about the fellowship program, please contact Travis Grandy, Assoc. Director for Learning Research and Technology (tgrandy@smith.edu).