ZOOM
Zoom is a web-based service for collaboration with colleagues and classmates on and off campus. Zoom provides audio and video conferencing, chat and screen sharing. Everyone with a Smith mail account can activate their personal Pro Zoom account.
Get Started: Log in here smith.zoom.us Sign-in with your Smith username and password. This will activate your Smith College Pro Zoom account.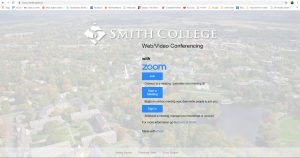 The next window you will see is very important. You should become familiar with this page as it is your personal Zoom web portal. Here is where you will schedule meetings and manage your Zoom account.
Schedule a Zoom meeting: Go to your My Meetings tab on the left and select Schedule a New Meeting. Give your meeting a name, select the time and date for your meeting and save.  https://support.zoom.us/hc/en-us/articles/201362413-How-Do-I-Schedule-Meetings-
How to Start a Zoom meeting: Go to your My Meeting tab. If you have a scheduled meeting it will appear under the Upcoming Meetings tab – Start Time, Topic and Meeting ID. To start the meeting select the Start button on the right.
Invite others to your Zoom meeting: Go to your My Meeting tab. Select the meeting you wish to share by clicking the Topic link. You will see Invite Attendees. Join URL: https://xxxxxx share this link with the people you wish to meet with or find Copy the invitation link on the right side of the page. This will take you to a more detailed Meeting Invitation. Copy it and paste it into an email and send it to your participants. Participants do not need Zoom or Smith accounts.
Join a Zoom meeting: https://support.zoom.us/hc/en-us/articles/201362193-How-Do-I-Join-A-Meeting 
There are many useful tips found here:
https://support.zoom.us/hc/en-us/articles/206618765-Zoom-Video-Tutorials?flash_digest=6215a388c58015cc659cdcca5b4348bac6bc6f46
---
May 28, 2019
The Future of UCaaS Can be 'Seen'