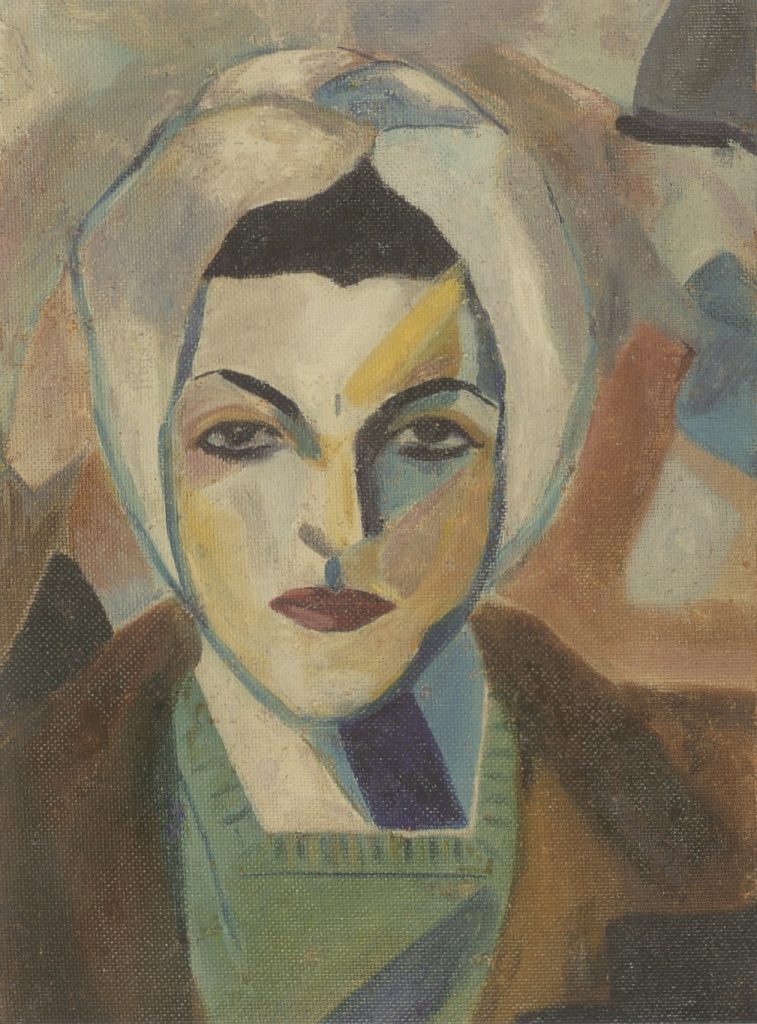 Self Portrait, 1943
A self portrait of the artist, made before her time in Paris, so the teachings of Onsi and Farroukh were her primary experience. These were both teachers that practiced impressionism and used rich colors, which are reflected here. 1943 was also the year that Choucair visited Cairo and began studying the differences in Greek and Arab art. Many people told Choucair that Arab art was not supposed to show the human form, but she found no clauses on this during her research so it is possible that this self portrait stems from that. The woman shown here is intense and seems a little sad, but also driven and very passionate.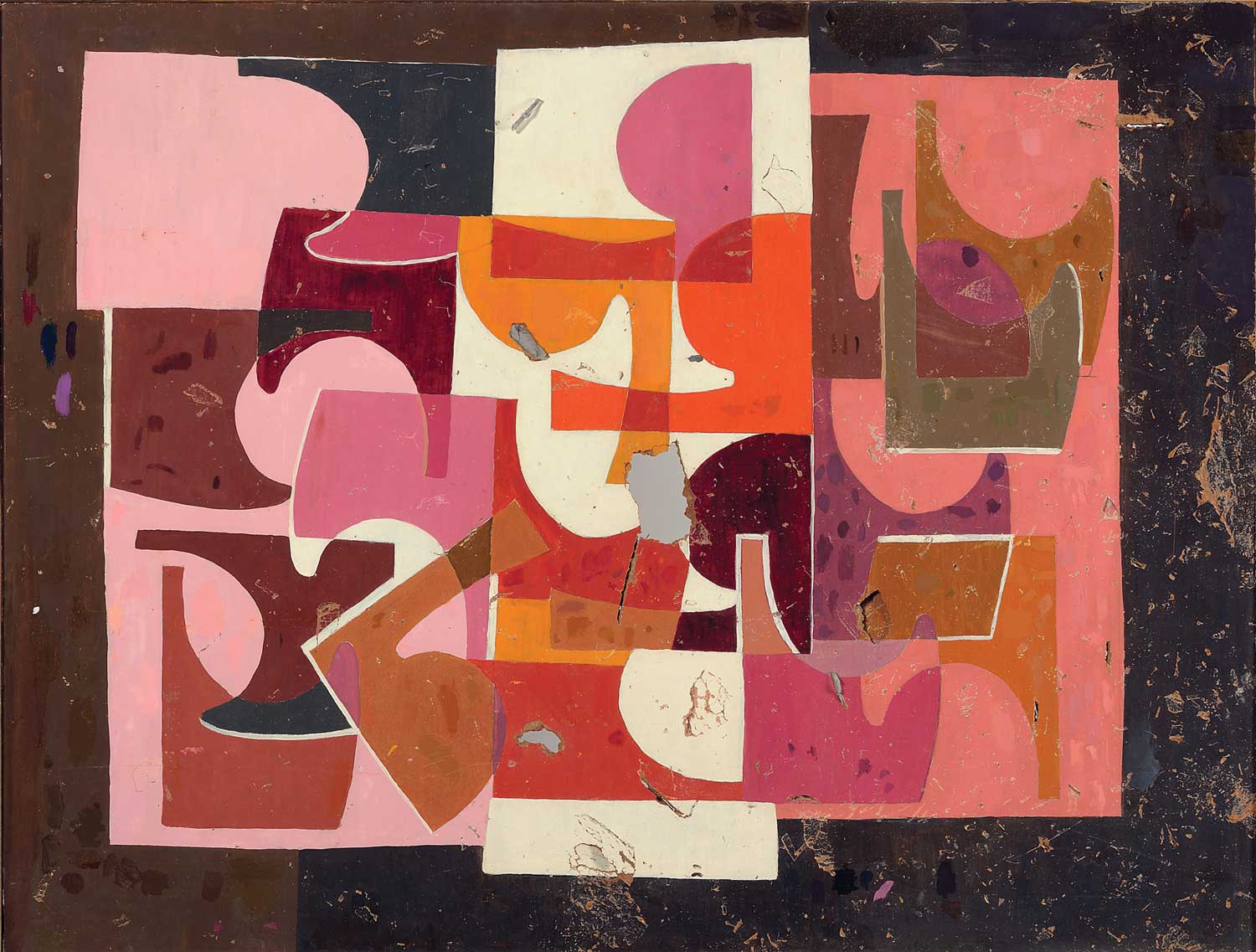 Two=One, 1947-1951
Part of a module, one of Choucair's signature experiments with shapes and geometry, Two=One was stored in her house during the wars and violence in Lebanon. The piece was injured during a bombing and has scars from pieces of glass and other rubble, including a large hole at the center. One of my sources uses this piece as a title with the phrase 'a damaged painting, a shard of glass,' because the holes in this painting were largely a result of glass shards. Although Two=One was painted during her time in Paris experimenting with modernism and geometry, the piece was brought back to her studio in Beirut afterwards and was there damaged.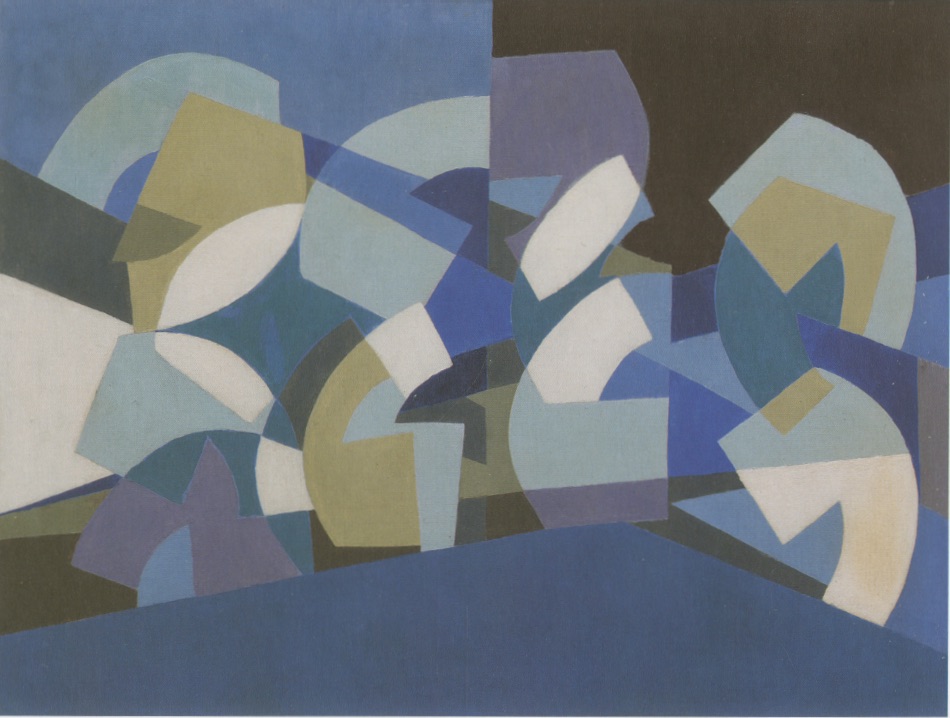 Composition in Blue Module, 1947-1951
Another piece from a module, this blue work shows the artists fascination with shapes and physics. All the comma-like shapes shown are painstakingly even, but the color variance gives each of them a different feeling. Fernand Léger, who Choucair studied under in Paris, used many block color styles in his paintings and this is a bit reminiscent in this composition. No two of these shapes are the same orientation or color, but they all appear to be the same size and to have some sort of organization to them.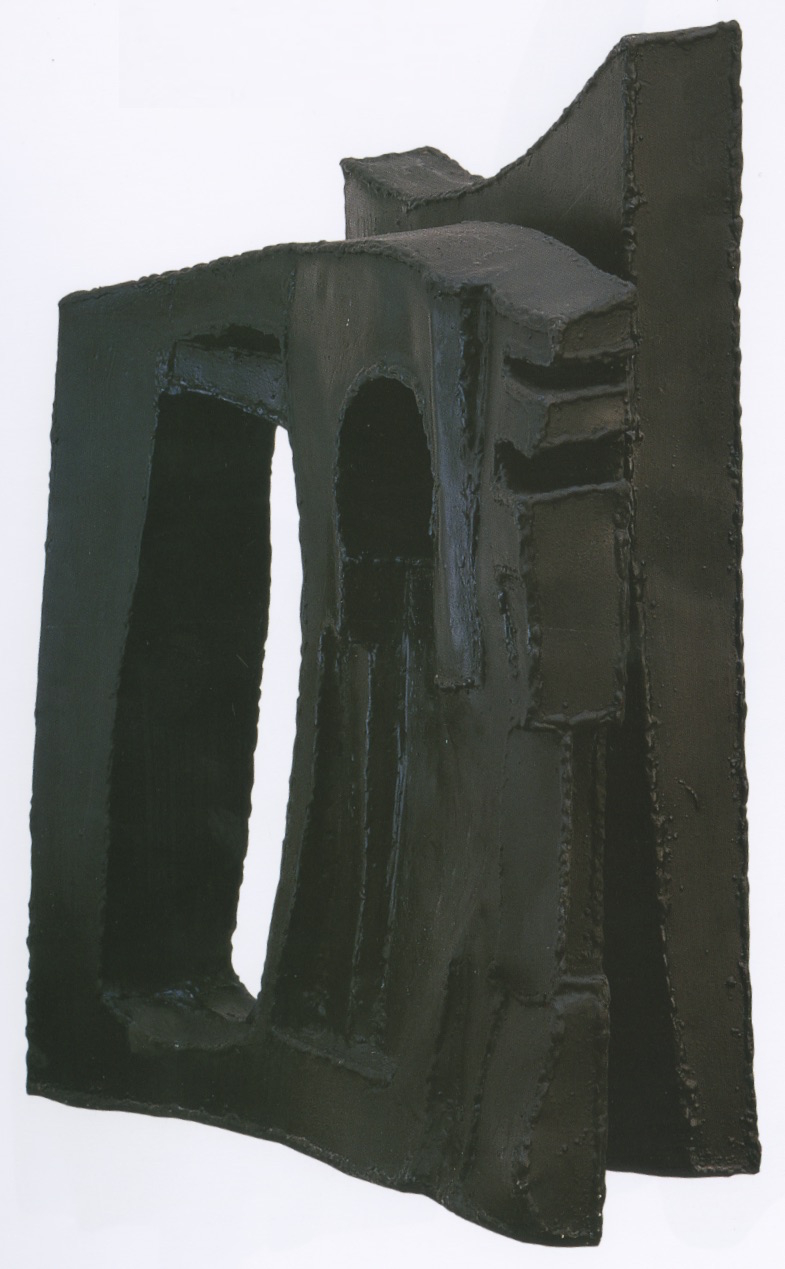 Trajectory of a Line, Two Walls, 1951-1959
This piece, made from welded black metal sheets, represents the experimentation that Chouciar did with architectonic sculpture when she returned from Paris. She has said that if she could start life over she would be an architect, which is suggested by the structure of this piece and her other 3-D works. Choucair's work is inspired in part by Arab calligraphy with its unique shapes. Although this piece does not have the fluidity of typical calligraphy, it mimics the intricate shapes because the piece shows a different silhouette every way it is turned.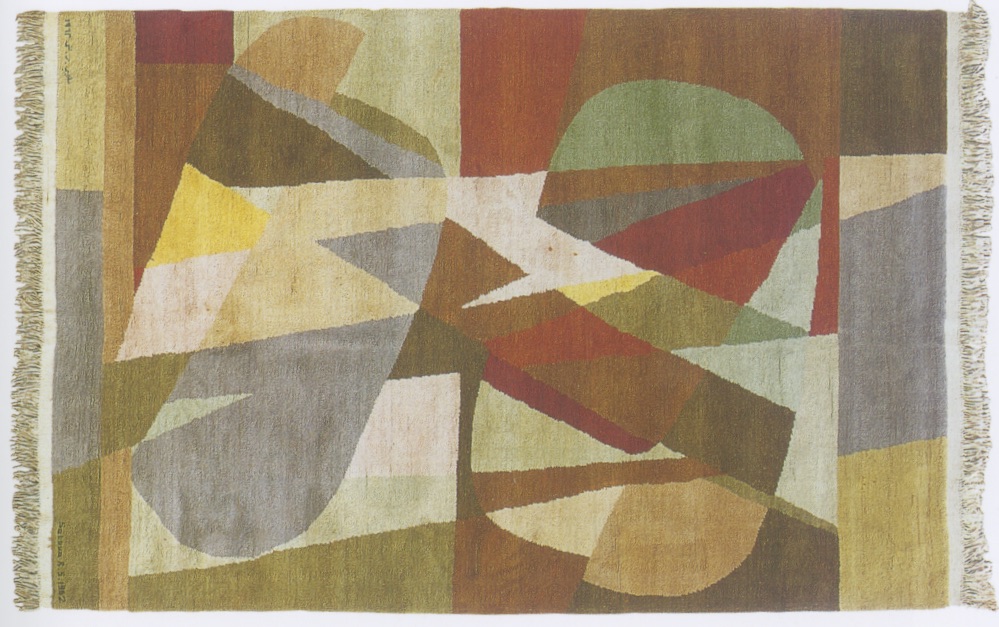 Composition, Two Forms, 1961
Choucair experimented by painting on many rugs, and this was an early way for her to get her pieces woven in to everyday life. Rugs are decorative but also useful, and Choucair liked for her pieces to be viewed in every day life to invoke continuous thought. This piece was finished a year before her first retrospective, and was probably one of the pieces shown at that gallery with many other rugs of similar styles and other unique mediums.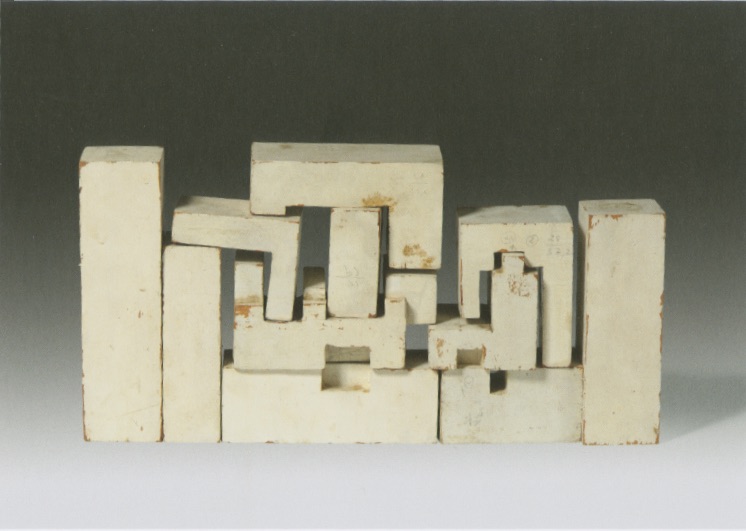 Poem Wall, 1963-1965
Choucair made many small sculptural pieces that could be taken apart and put together in many ways. This white wood piece shows noticeable pencil markings that may be clues to how Choucair intended to have this put together. Pieces like these she called poems, but only if they were put together the way that she had originally intended. If they were put together a different way then they were called puzzles. This is a remarkable example of Choucair's connection from culture to art. Poems can function if the lines are out of order and may still sound interesting, but they do not flow in the way that the writer originally intended. This is the idea that Choucair replicates with Poem Wall, because even though it can be art in any way there is a specific order and story that it is mean to to portray in this one.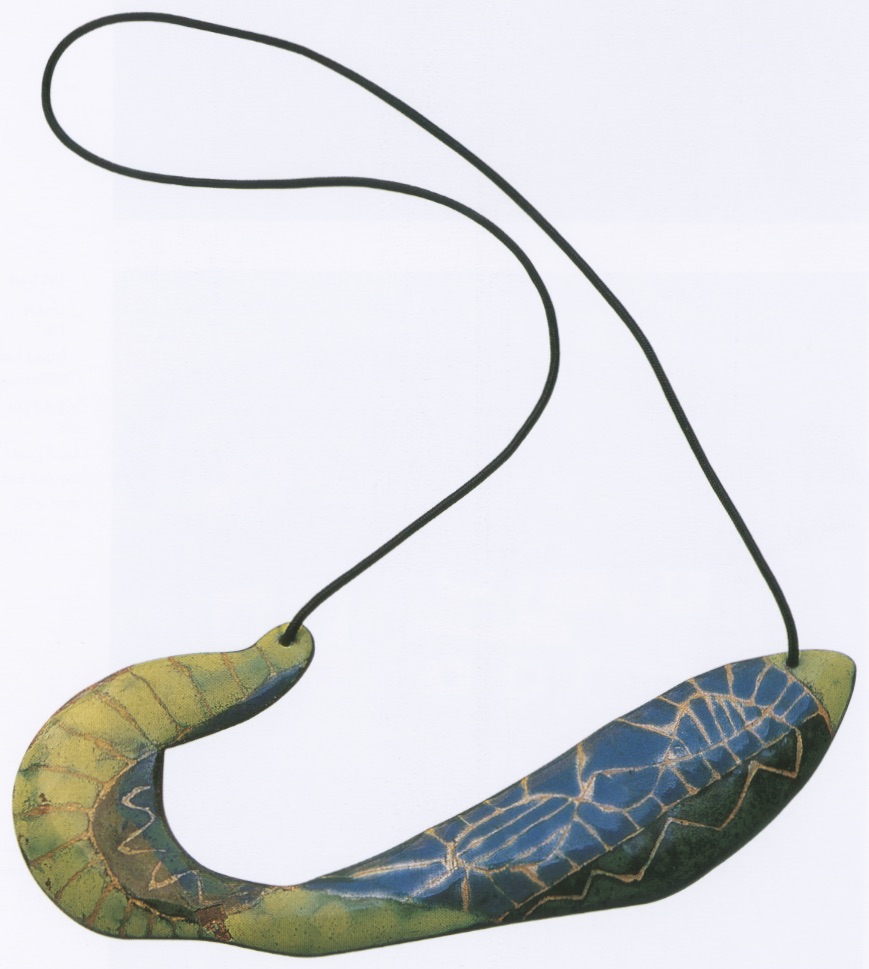 Pendant, 1970-1972
Choucair experimented with jewelry when she returned from Paris, along with many other mediums. In many photos of the artist she is wearing extravagant colors and sharp, boxy shapes that are adorned with elaborate and complex accessories. This necklace is one of those. It does not follow a pattern in physical shape or design pattern, but is color-blocked similarly to Chocuair's module paintings with a design added on top. This piece is a smaller version of what Choucair wanted to happen to her art, as this is wearable and can go out and be publicly appreciated.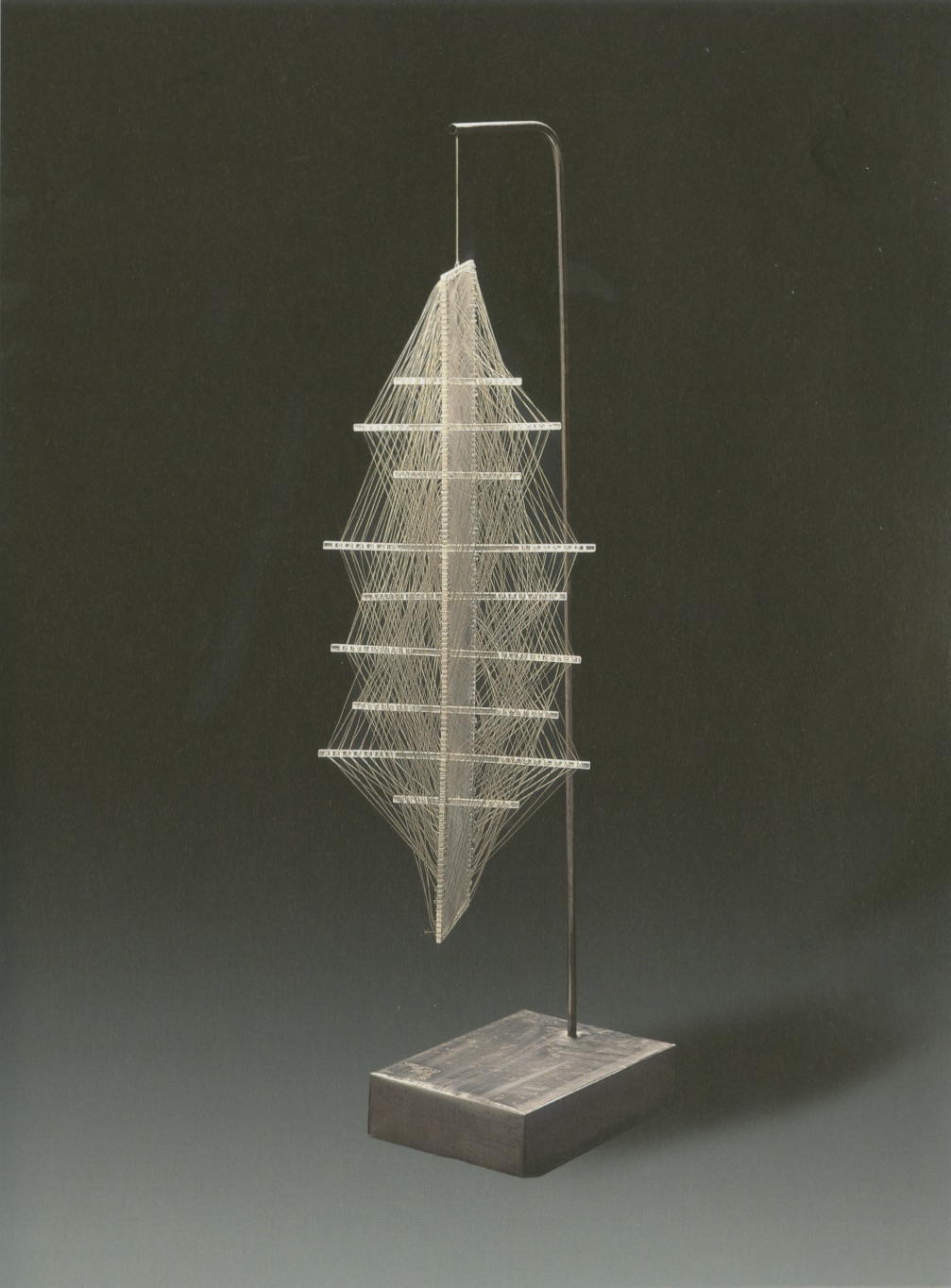 Trajectory of the Arc, 1972-1974
Choucair's educational background in Physics is exceptionally visible  in this 3D hanging piece. Every line has a purpose and seems to stand on its own away from the sculpture as a whole but also contributes to the whole piece. The balance of this piece is a testament to Choucair's attention to mathematical and physical detail, because it hangs with such ease and yet appears heavy and non-moving. I can imagine that this is a piece that Choucair would have wanted outside and in the air to catch the breeze and attract people's attention.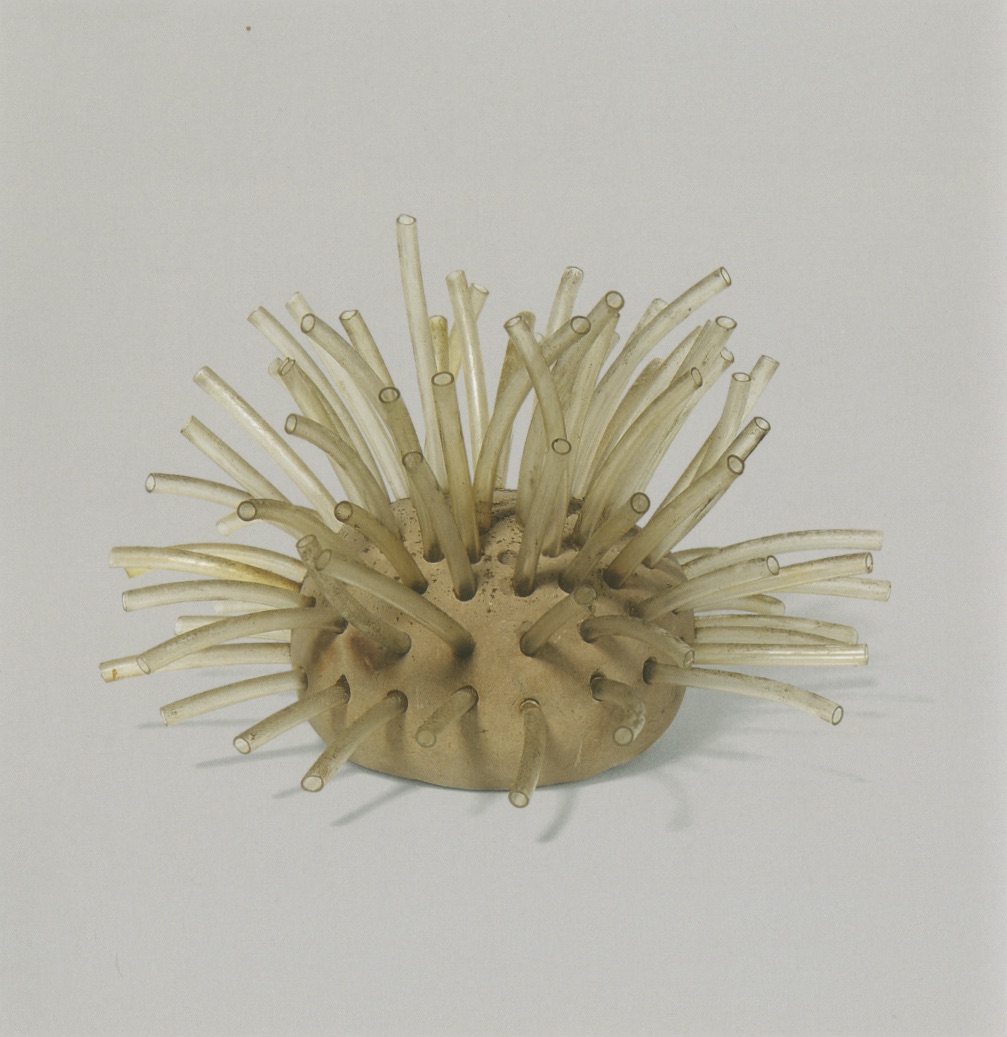 Water Project, 1973
Chocuair's fascination with bizarre materials is at a high with this clay and plastic piece from her series of Water Projects. These pipes resemble straws to me, because they are all similar lengths and sizes, and the whole piece looks like many people have sucked the clay ball dry of it's water and life. The clay that the straws are packed into is very dry but round and appears smooth. This was made a few years before the civil war, and there is a possibility that this represents Choucair's solidarity with those who are under-cared for in times of war.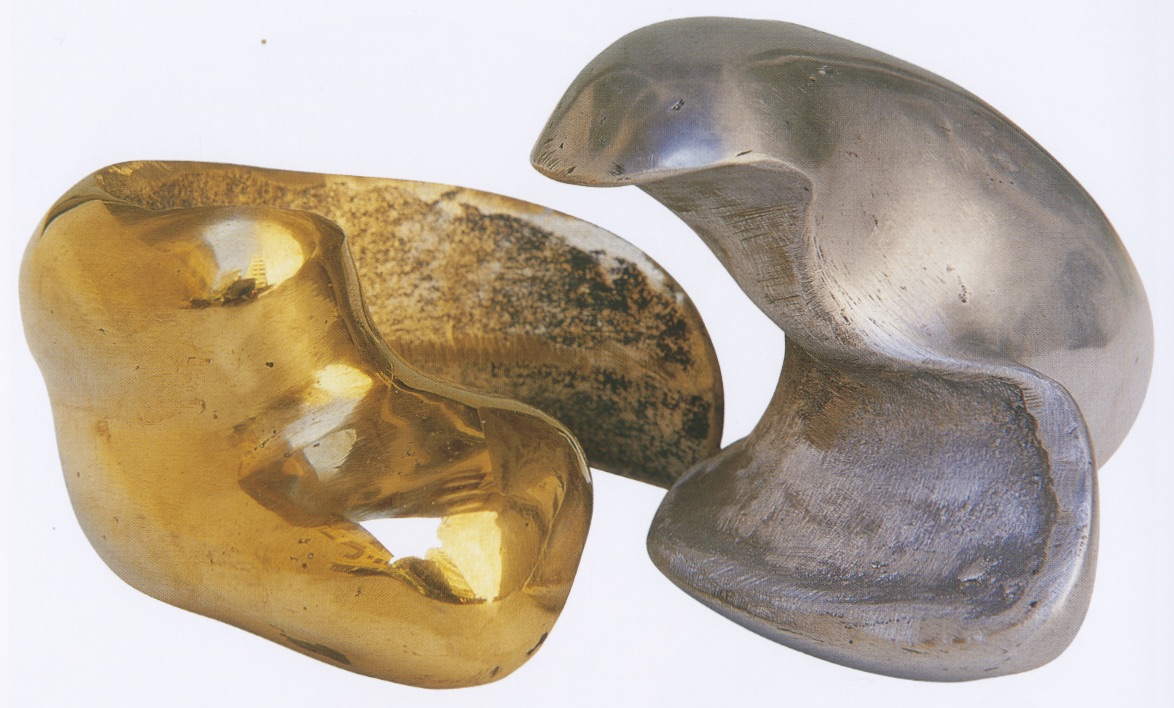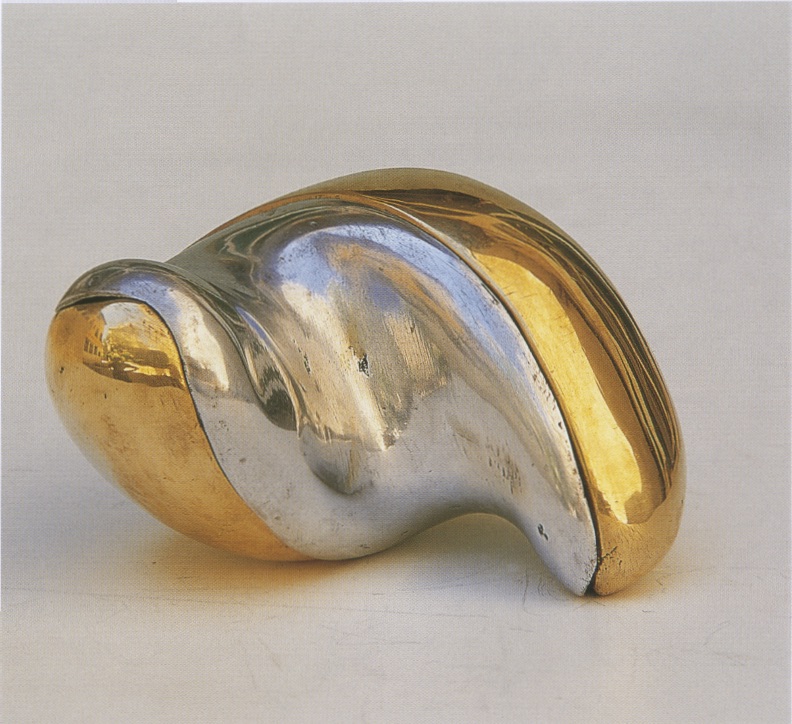 Dual, 1978-1980
Meant to be viewed as art both together and separate, this dual piece is made from two pieces, one each made out of aluminum and brass. The pieces fit together perfectly to form a spiral, and also separate to create two unique sculptures of their own. Choucair did not have an exhibition after these pieces were made until 2011, so her public eye was quite small at the time. This piece has an important message as well, that two things can be beautiful both separate and together.
Sketch for Water Project, and Water Project, 1980-1983
Choucair kept pages of notes for all of her installations, one of which is displayed above. The Water Project pieces, especially this one, were created for public installment. The detail and physics involved in this piece in incredible, as Choucair has planned out the map for each stream of water coming out of her sculpture. Although this is smaller, it still has an impact on the world around it by helping to water the greenery that it is surrounded by.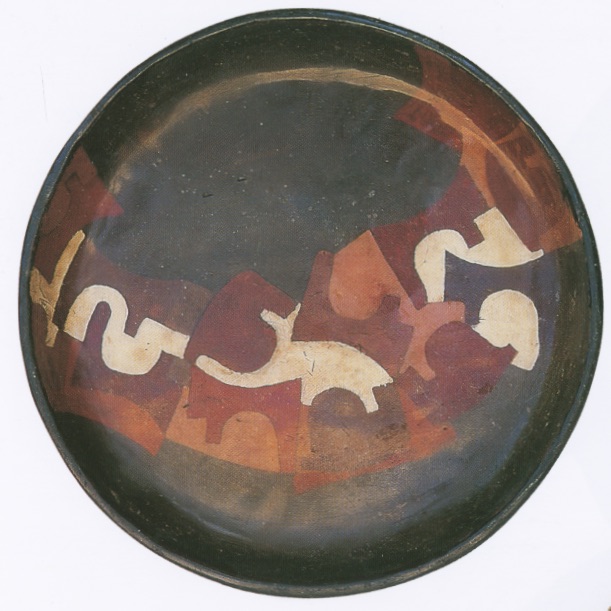 Plate, 1981-1983
This piece is fascinating because it brings Choucair in a full circle back to painting. In Paris and before Choucair painted wuite often and used this module style in numerous paintings. After she returned from Paris and began sculpting there was a drop in the number of paintings that she created. This piece of pottery combines structure with paintings and sports one of Choucair's early signature styles while also showing off her skill with objects and 3-D creations.