Saloua Raouda Chocair was born 1916 in Beirut, Lebanon and was a fearless and energized child who had a passion for art. Her father died as in the Military when she was very young, and she and her two siblings were raised by her intellectual mother (LaTeef 17). In addition to graduating from the progressive Beirut College for Women in 1938,  Choucair began studying under Mustafa Farroukh in 1935 and after that under Omar Onsi in 1942 . At the Beirut College for Women she studied both mathematics and physics, and grew to love art in addition to the world of science.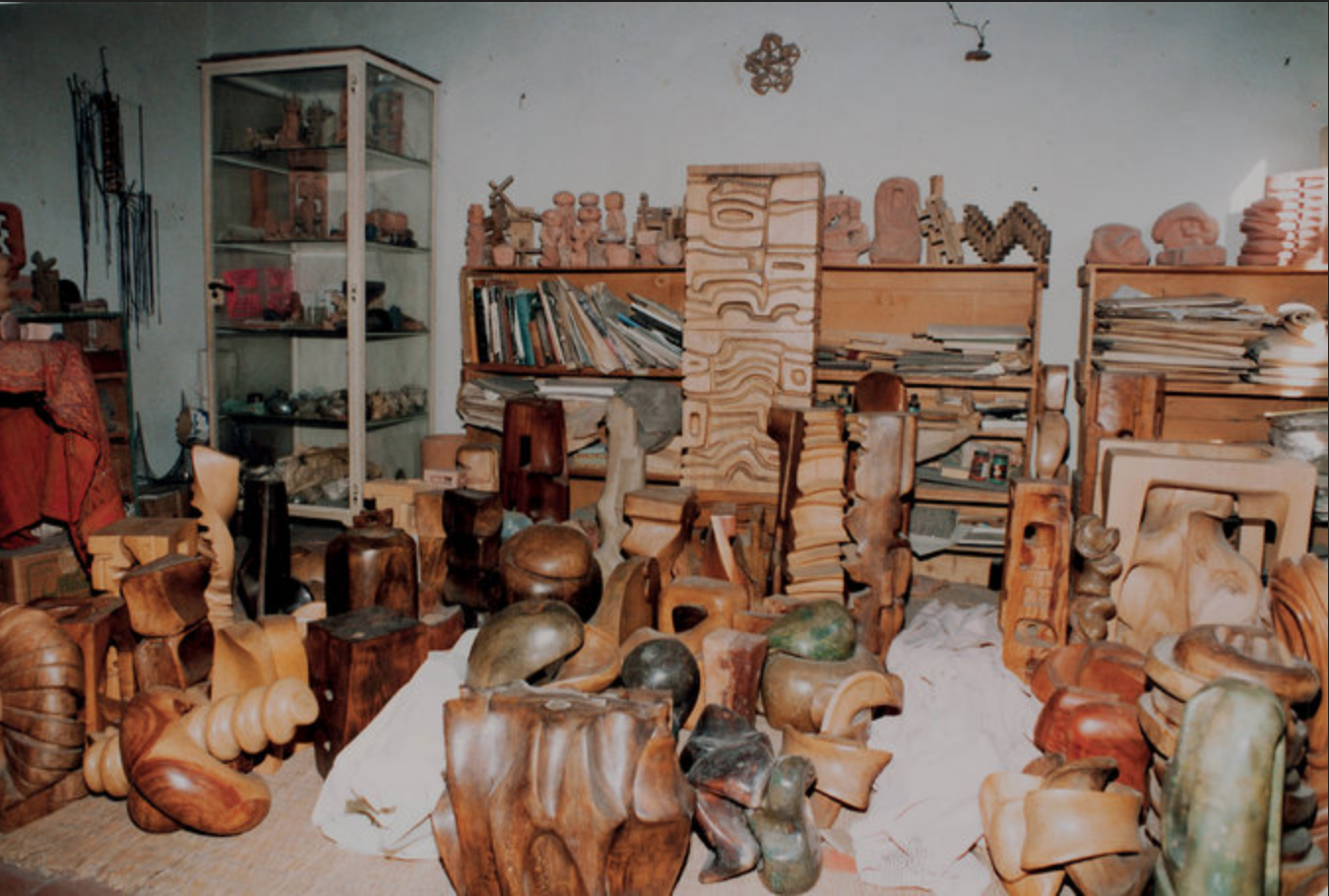 During the Second World War Chocuair traveled to both Egypt and Morocco and was inspired by the intricate arches and stonework in the mosques there. Early in her career she was infuriated when one of her teachers called Islamic art second to styles such as Greek because it was not as advanced in its portrayal of the human body. As a response to this Chocuair studied both cultures extensively, a journey that also helped her to develop as an artist and inspired some of the use of Islamic lines and curves in her paintings (Al-Awar 85).
From 1945 to 1947 Choucair studied at the American University of Beirut and taught at the Arab Culture Center in Lebanon. Along with her studies Choucair was deeply involved in activism, worked as a librarian, and continued to be fascinated by all forms of art (Scheid). By the end of the 1940s, she was considered by many to be the first contemporary abstract artist in the Arab world (Blazwick et al. 63)
Chocuair visited Paris with her brother-in-law in 1948 and, in awe of the artistic community in the city, decided to not return to Lebanon and remained in Paris as a student of the École des Beaux-Arts (LaTeef 17). At the school she studied lithography, fresco work, and sculpture under Saupique as well as taking classes at the Académie de la Grande-Chaumière on abstraction under Dewasne and Pillet. Additionally in Paris she studied under one of the most modern artists of the time, Fernand Léger, who had just returned from New York when Choucair arrived in Europe (Jones 107).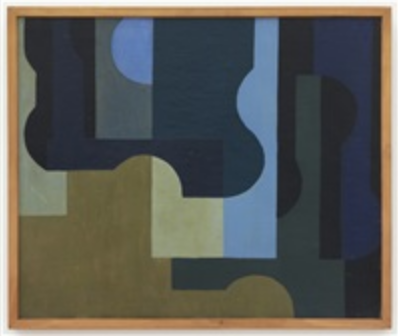 In 1950 the Atelier D'Arte Abstrait, a new studio that housed no masters and encouraged collaboration, opened in Paris and the atmosphere drew Choucair to it (Jones 107). She often visited the workshops of Hajdu, Etienne, and Marin as well to gain more artistic perspective (Liban 140). Paris was where Choucair discovered her passion for modernism and abstraction, and many of her module paintings come from this time. The modules, geometric and repetitive yet colorfully unique, combine the modern teachings of Paris with the mathematical background that Choucair brings to her works.
Chocuair returned from Beirut in 1951 and married Yusif Choucair, a journalist. In 1955 she spent the summer touring art schools in the United States and at her return she began experimenting with many forms of artistic media, including rugs and jewelry, subsequently developing a love for sculpture (Al-Awar 86).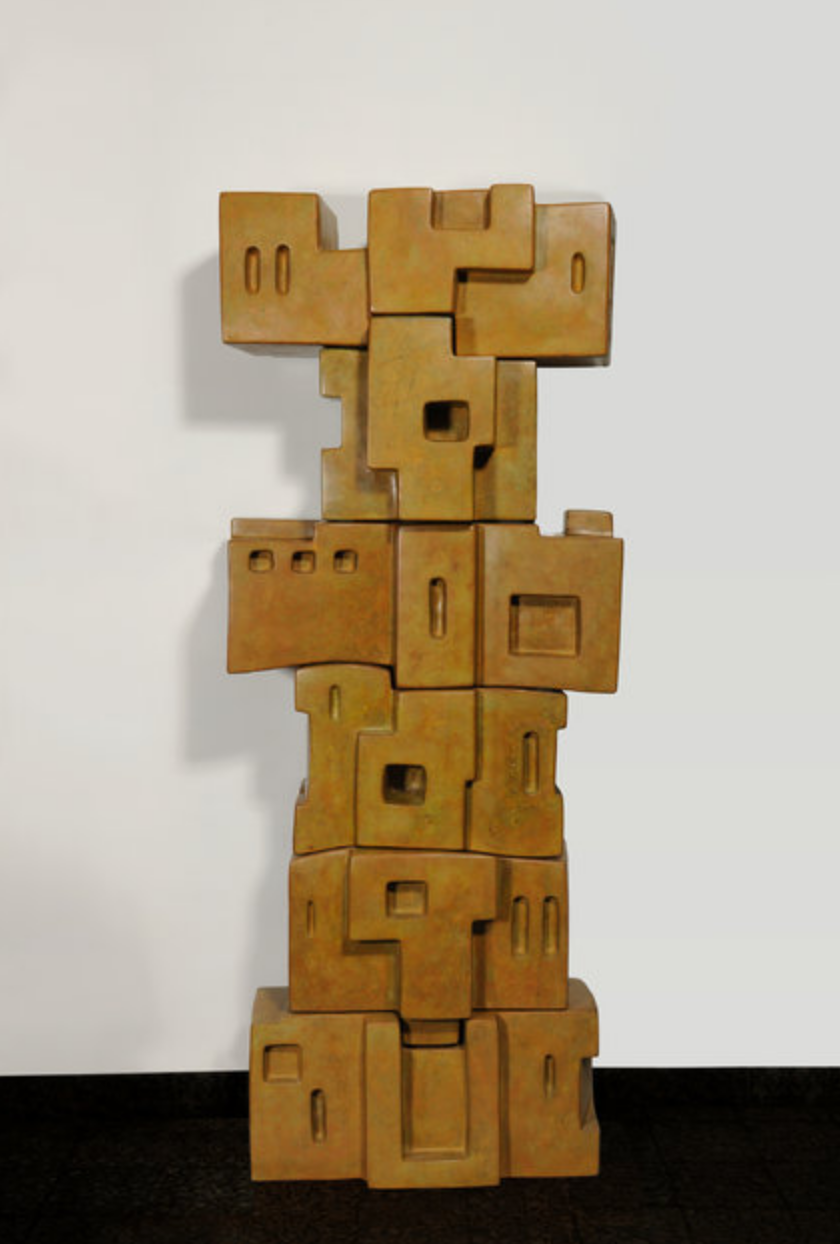 Though she worked from home, many were amazed at her ability to remain in tune with the art world and movement in Europe (Jones 110). Choucair's development as a sculptor seemed to mirror the development of Beirut, as both of them grew more architectural. Her art is inspired by Arabic calligraphy, art, and poetry, and the ability to artistically deconstruct these mediums. Choucair's works are also inspired by her knowledge of movement, kinetics, and duality (LaTeef 19, 20) .
The UNESCO headquarters in Beirut held Choucair's first retrospective, titled Material, in 1962, which featured painted carpets and brought in her architectural fascination using unique materials such as glass (Choucair 62). She was also one of the first Arab artists to show at the Salon des Réalités Nouvelles, which specializes in abstract art (Liban 140). In 1974, shortly before a breakout of war, the Lebanese government honored Choucair and shared 30 years of her work in a show titled Retrospective and featured almost every significant piece she had made up until then. When Choucair had a show at the Tate Museum in 2013 it was her British debut and also the first time that her art had been collected and shown together since 1974 (Choucair 62).
Saloua Choucair broke through the artistic expectations for Arab women with her art, which she used to challenge people about many topics. Her sculptures were made for larger audiences, and many of them were created small with the hopes that one day they would be created on a much larger scale and installed publically. Two of her sculpting styles that were clearly meant to be outside are her water projects which include flowing water with sculpted fountains, and intricate benches.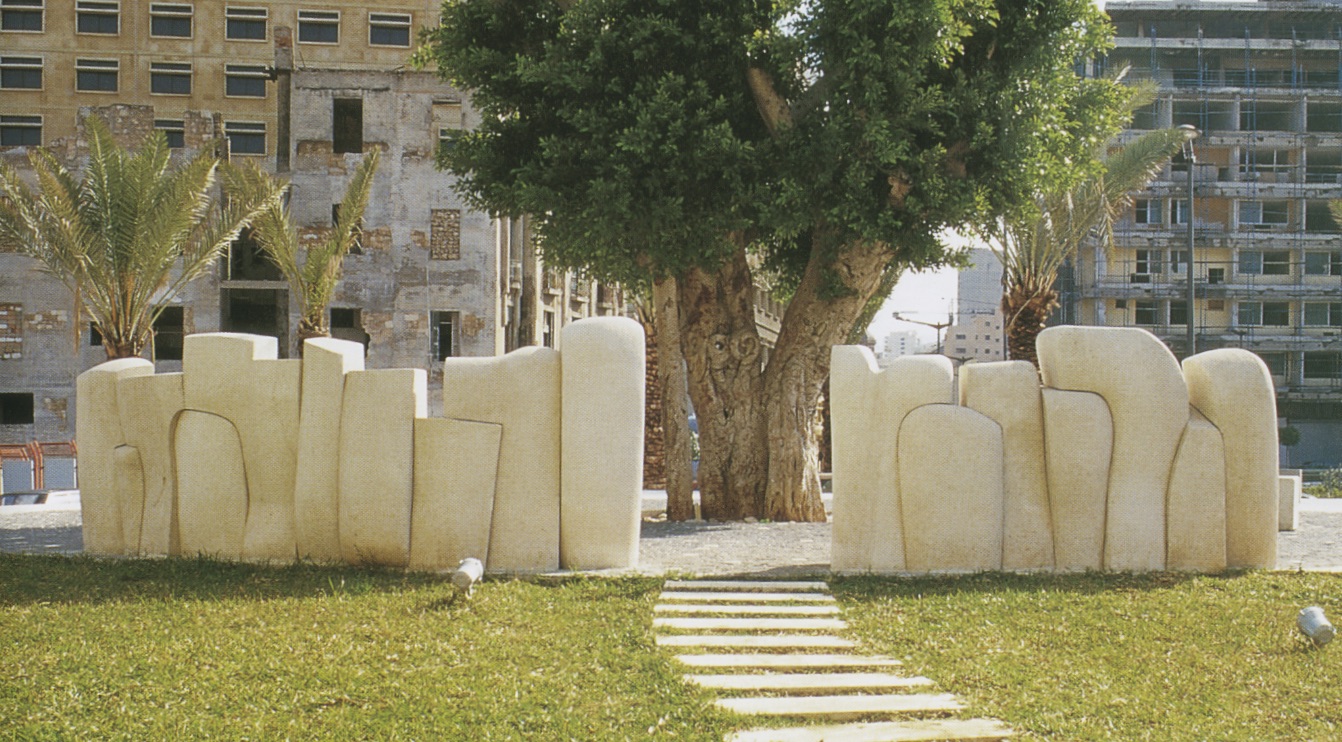 Choucair was never given great credit for her art when she was alive and was little known outside of Lebanon, possibly because she created art with a more hidden story (Choucair 63). Many people also blame the war for Choucair's career never taking off as it could have, because she was creating while her works were destroyed by bombs and there were many people who did not want to focus on art during these times (Jones 11). However, she received lots recognition from the government of Lebanon and countless awards from locations in Beirut and beyond. Choucair devoted her whole self to her work and was never put down by those around her, no matter the opposition she faced, and paved a way for Arab women in art and women in abstraction.