What stories do the records miss?
While municipal business records shed light on large scale development trends, the granularity and individual stories are lost when we look exclusively at businesses as dots on a map. Additionally, these records are not without their gaps. While business density has indeed increased with each new decade, San Francisco's business records do not seem to capture all businesses that were present in the neighborhood. It is unclear whether this is a result of lower rates of business owners registering their businesses with the city or if it is a product of spotty record keeping, or likely a combination of the two.
Here are three addresses and their stories that trouble and expand upon the records. Consider the ways these stories may differ than the ones captured by the data maps.
511 Hayes Street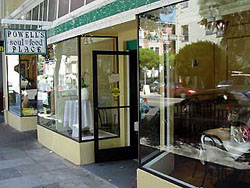 According to San Francisco's Registered Business Locations records,1 in 2022, 511 Hayes Street is home to Hayes Valley Properties, which has been at that address since 1978, and Vik Slender Corp, which has been at that address since 2021. However, having just passed by it recently, I know that Patxi's Chicago Pizza is also operating at that address, which their website and recent Google reviews confirm. In the records, Patxi's opened in 2005 and closed in 2021. The records end there with those three businesses, but the history does not.
In 1972, Emmit Powell opened Powell's Place at this location, which Myrtell Bass-Kuma and Madeline Behrens-Brigham both described as a neighborhood institution. Powell, both a restauranteur and a gospel musician, was large in the community and hosted a popular gospel radio show for decades. Local politicians seeking the votes of Western Addition residents made sure to stop by Powell's Place on their campaign trail. In the 2004, rising rents pushed Powell out of Hayes Valley. He moved shop to the Fillmore District and then to Bayview, but the economics were not panning out. Powell died from cancer in 2018 at 84 years old.2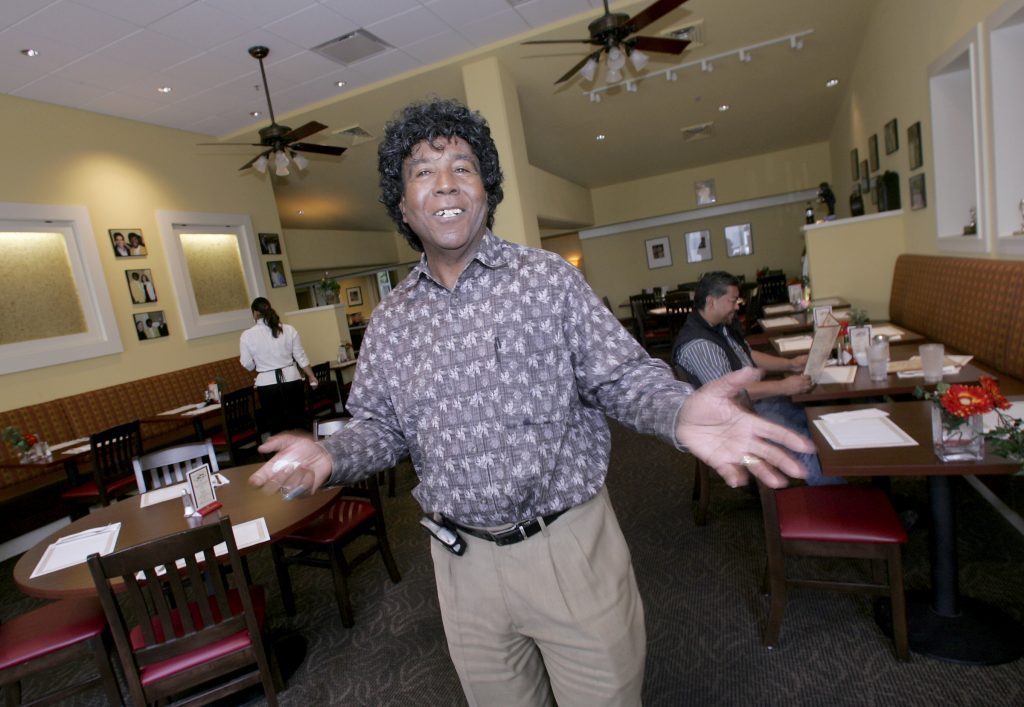 572 Hayes Street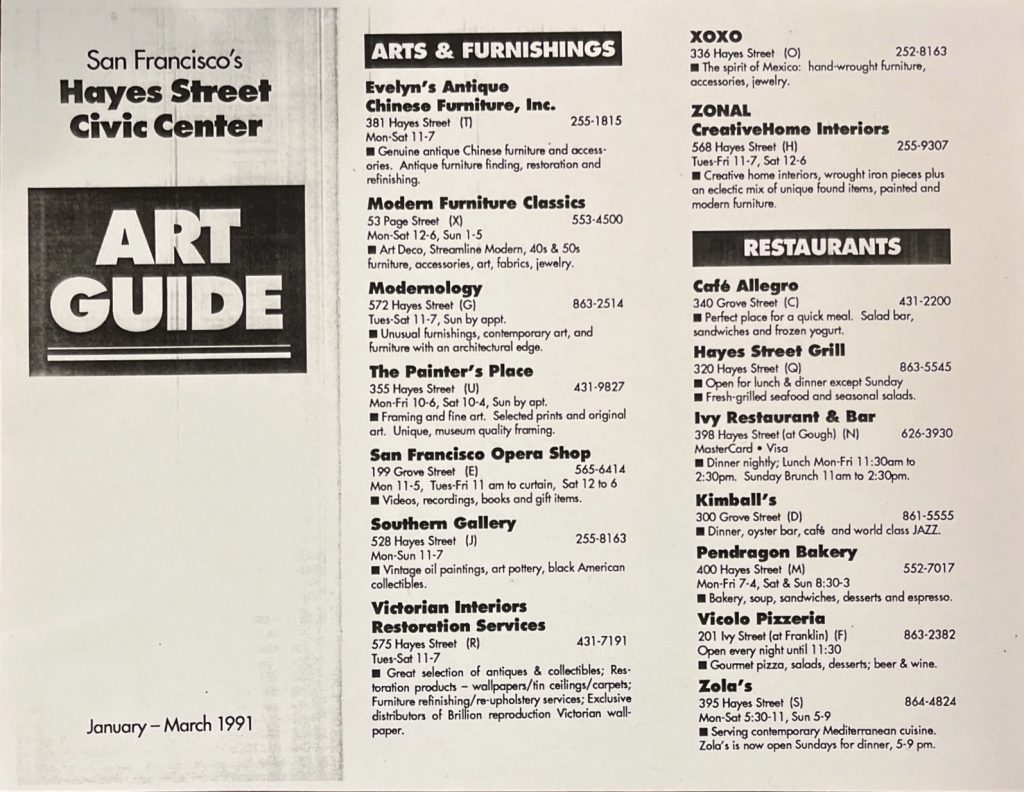 Madeline Behren-Brighams distinctly remembers registering her business with the city. She got a business license, got fingerprinted, and paid her sales taxes. She even was a founding member of the Hayes Valley Merchants' Association. Modernology, her consignment shop, was open from 1990 to 1993. In the above photo, you can see Modernology listed third under Arts & Furnishings. The available business records contain no trace of it.
Cotton Sheep is the only business at this address there are records of, which has been open since 2004. It is a Japanese apparel shop that sells, among other high-end products, $68 socks.
488 Hayes Street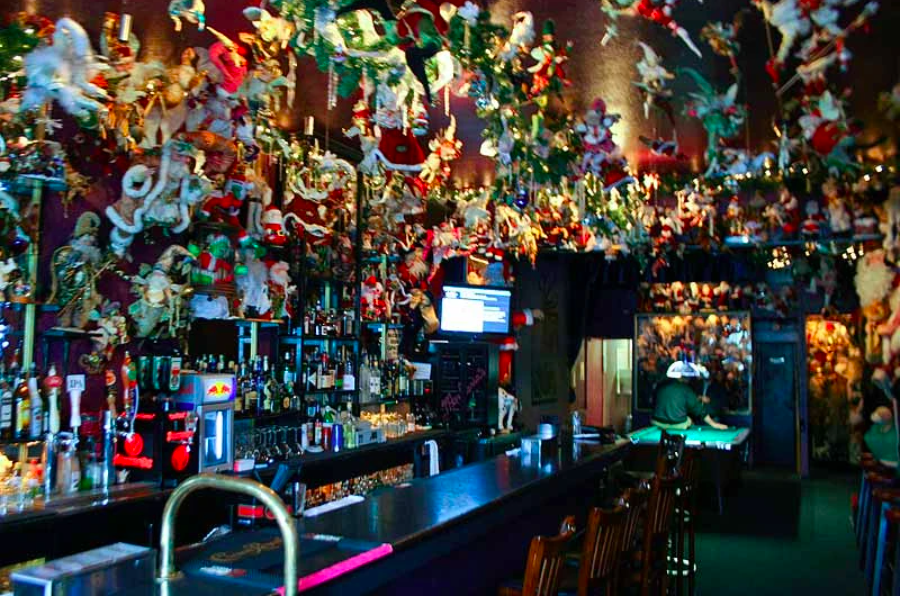 Since 2013, according to the records, 488 Hayes Street has operated as a bar, Brass Tacks, and a burger place, Burgers 355, which appear to share an owner. Before 2013, the records show it was Marlena's from 1997 until 2013.
Marlena's was a drag bar and queer community mainstay owned by Gary McLain, who went by Marlena when in drag. Marlena's was a solid presence for queer San Franciscans through the devastation of the AIDS crisis, bringing much needed levity with their regular programming and over 1,000 Santa figurines decorating the space.3 As Madeline Behrens-Brigham and the Bay Area Reporter lay out, Hayes Valley has a rich queer history that tends to go unrecognized. Marlena's was a key gathering place, but the neighborhood was also home at various points in time to queer publication Vanguard Magazine, the Gay Liberation Front, queer theater group The Angels of Light, a Gay Community Center, queer newspaper The San Francisco Sentinel, The Pride Foundation offices, an ACT UP office, and more.4 Gilbert Baker even created the first rainbow flag in Hayes Valley.5
As it turns out, Marlena's was not the first gay bar at 488 Hayes Street. That title belongs to David's House, which opened in 1983.6 David's House was replaced by the Overpass in 1988, which then became Marlena's.7 As of 2017, McLain still lived in the building.8
None of this history appears in the business records.