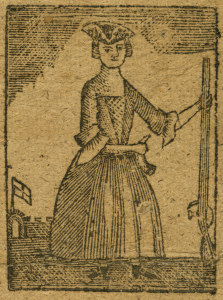 Why is it that when we think of the American Revolution, our minds turn toward powdered wigs? Millions of people lived in revolutionary America, and almost none of them was named "George Washington" or "John Adams."
This site is a project of Smith College students in a Spring 2021 course on "The American Revolution." Our goal with this project was to produce a socially broad primary source reader about the revolutionary era and its peoples. Each entry contextualizes and excerpts a document written by someone from revolutionary America whom most Americans probably don't know. It relies on letters, diaries, memoirs, and newspaper sources to create an inclusive archive of the American revolutionary experience.
You can find our entries in the left-hand menu, or below:
Andrew Sherburne: a New Hampshire man who served as a privateer and as a prisoner of war during the revolution.
Anna Green Winslow: a young woman and diarist living in Boston during the revolution.
Boston King: an enslaved man born in South Carolina who fled to the British army during the revolutionary war and then left for Nova Scotia and Sierra Leone.
Boyrereau Brinch/Joseph Brace: an enslaved man born in Africa who served the Continental Army during the revolution.
Bristo Lambee: a free Black petitioner in Connecticut who called for white Patriots to live up to their ideals.
Ebenezer Fox: a sailor and prisoner of war during the revolution.
Elizabeth Drinker: a wealthy Philadelphia Quaker woman whose extraordinary diary attests to her interest and activism in Patriot politics.
Esther DeBerdt Reed: an elite Philadelphian who helped to fundraise for the Continental Army.
Friederike Charlotte Luise Riedesel: a German baroness who brought her family to America during the war to accompany her husband, who was a general serving the British army.
Grace Growden Galloway: an elite Loyalist woman in Pennsylvania whose fortunes changed with the revolution.
James Robinson: an enslaved Maryland man who fought for the Patriots during the revolutionary war.
John Joseph Henry: a Pennsylvanian who entered the Continental army out of an apprenticeship and rose to become an officer.
Judith Sargent Murray: a prominent Massachusetts woman who argued for the "Equality of the Sexes" during the revolution.
Margaret Concrieffe Coghlan: a Patriot woman whose ties to her British, Loyalist family led her to be imprisoned by Washington's army.
Margaret Morris: a New Jersey Quaker woman who practiced medicine and tended to both Loyalists and Patriots during the war.
Mary Gould Almy: a fiercely-Loyalist Newport woman who rejected her husband's commitment to the Patriot cause.
Mary Jemison / Dehgewänis: captured as a young woman by the Shawnee, she settled with and embraced a Seneca lifestyle during the American Revolution, leaving behind a rich memoir.
Mercy Otis Warren: a white Massachusetts woman who was one of the most prolific female writers of her age.
Sally Wister: a young woman in Philadelphia who faced disruptions to her life because of the war.
Sarah Frost: a Loyalist woman who fled the United States after the war for Nova Scotia.
Sarah Winslow Deming: a Boston woman and diarist who lived through her city's dramatic siege in 1775.