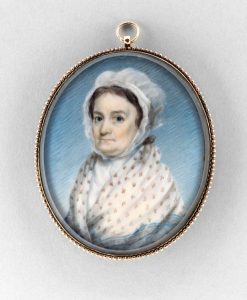 By Jaden G
In 1735, in Newport, Rhode Island, James and Mary Gould gave birth to their fourth child Mary. Despite belonging to a Quaker family, Mary married Benjamin Almy in Trinity Church. Her sister, Patience, and her husband Augustus Johnston, a significant member of the British colonial government, later became Loyalist refugees. 
Early in the revolutionary era, Rhode Island established itself as an independent, Patriotic colony. Nevertheless, Britain occupied Newport at the war's start in December 1776. Two years later, the French and Continental army attempted to liberate Newport. The Siege of Newport is remembered as the first event of active French involvement in the war. It was also a total disaster. Upon arrival, the French were somewhat poorly received by colonists. The failed siege injured Patriot and French confidence, particularly because in comparison to Britain, their forces possessed more resources and men. 
The following extracts are from journals written by Mary Gould Almy to her husband, Benjamin Almy, detailing her thoughts and experiences during the Siege of Newport (August 1778). According to the Newport Historical Magazine, the dates of events Mary provided differ from authors, but in the excerpt below they are left as written in the journals. 
Mary's letters demonstrate the unique position of women during the American Revolution. Legally, women were dependents of their husbands. As a result, while Mary held ultra-Loyalist views, she faced no repercussions for her beliefs from Rhode Island Patriots. Her husband's position in the rebellion secured her safety and status. Additionally, Mary's letters convey an equal sense of commitment to her political ideals and her husband's safety—demonstrating how precisely the American Revolution divided colonies, towns, and even married couples.  
NEWPORT, September the 2d, 1778. Once more, my dear Mr. Almy, I am permitted to write you. Great has been your disappointment, and great has been my sorrow, grievous to bear because it came from my friends, but I beg not to dispute at so great a distance. By your desire and my own inclinations, I am to give you an account of what passes during the siege: but first let me tell you, it will be done with spirit, for my dislike to the nation that you call your friends, is the same as when you knew me, knowing there is no confidence to be placed in them, and I forsee that the whole will end, as this maneuvre did, in taking this island, to the discredit of the Americans. You will not be surprised at my warmth when you will find how I suffered, nor wonder at my freedom when you find this comes sealed and wrote for your perusal alone.
[A fleet of French ships arrived in Newport Harbor on July 29, 1778 with no warning. Mary describes Newport's reaction:   "all was confusion in a moment" and  with "no time for preparation." Shortly after, British forces mobilized.]  
Sunday, August 2. …Then new perplexities arose, new fears stared us in the face, till we were informed that three large French ships of the line had gone up Conanicut passage, and as they were not strong enough to cope with them, took advantage of the dawning day and a fine breeze to run from them, who, if they had been half their strength, would never have let them tell an American their boastful tale, of four British frigates running from their stations. At sight of eleven sail of the line, my heart bounded with fright, and then would recover with anger and disdain—a most excellent remedy for a woman; indeed, by turns, it was the saving of my life.
#24-25 Monday, August 3. Early was the sound of joy proclaimed; a small boat came express from New York; as soon as she was seen every ship in the French fleet had the honor of giving her a salute. A bold, daring Briton had the command. He ran her upon Sachuest beach; all lay flat about the bottom of the boat and never a man was hurt. All in high spirits. Lord [Richard] Howe [the British leader who led the defensive forces] hourly expected a great force. All the frigates ordered to their old stations, to be made a sacrifice, I am afraid. The whole town in some great confusion… The tedious day gave way for the more tedious night. Every man ordered to be in readiness, the [American] troops were landing at Howland's Ferry. Oh what a sound ! When I look over the list of my friends on both sides of the question, my heart shudders at the thought, what numbers must be slain, both so obstinate, so determined. Well may we say, what havoc does ambition make. Cursed Frenchman, they would not have come, had it not been for you.
[For the bulk of August, Newport waited and prepared for the French to attack. In the excerpts below, Mary continues to describe the foreboding feeling of waiting for her husband. During this time of inaction, Mary sent her mother and children to a safer area of Rhode Island.]
Sunday, August 23. … Every hour we are expecting a general battle, my whole heart is sick with melancholy stories. Every hospital is crowded with wounded men. No church, no appearance of anything but horror and distress. The country people all plundered. In the midst of all the confusion, some were going into eternity, while others were robbing the innocent farmers' houses; death and destruction were before their eyes from every quarter, until the officers heard of their doings, they directly ordered guards to every house, whose kind protection was the saving of them. And to do justice to the British, their humanity and lenity were beyond all conception, to the wounded prisoners. There was a hospital on purpose for them. Nurses were chosen amongst the inhabitants, that they might have every indulgence that their unhappy situation needed. Doctors, whose goodness, understanding and compassion ought never to be forgotten. And whenever justice is done, at the end of the war, I hope this instance will be in your records.
#39-40 Monday, August 24.  … At eight o'clock, a messenger; they began to decamp early in the evening and before day, their artillery, baggage, wounded men and part of the army were over. At ten o'clock Thos. Hill came in and told me he saw you on Friday and that you desired him to let me know by day-light on Monday morning, you should be at home at breakfast, with a number of gentlemen. Oh! Mr. Almy, what a shocking disappointment to you! Can you keep up your spirits? Heaven, I hope, will support you, so positive, so assured of success, and remember in all your difficulties and trials of life, that when the All-wise disposer of human events thinks we have been sufficiently tried, then our patience in waiting will be amply repaid by a joyful meeting.
Discussion Questions:
How does Mary Gould Almy's role as a wife and mother affect her thoughts regarding the American Revolution? Why is it important to consider Mary's positions in society when analyzing her diary entries?
Mary Gould Almy's letters offer a non-military narrative of the Siege of Newport. What does her narrative tell us about the opinions of civilians regarding the violence of the American Revolution? To what extent does Mary's perspective demonstrate the divisions between friends and families in the colonies?
Sources:
Gould Almy, Mary. "Mrs. Almy's Journal, Siege of Newport, R.I, August 1778. ." The Newport Historical Magazine 1, no. 1, July 1880. https://babel.hathitrust.org/cgi/pt?id=hvd.32044020012902&view=1up&seq=22
Gundersen, Joan R. "Independence, Citizenship, and the American Revolution." Signs 13, no. 1 (1987): 59-77. Accessed April 14, 2021. http://www.jstor.org/stable/3174027.
Jones, T. Cole. ""Displaying the Ensigns of Harmony": The French Army in Newport, Rhode Island, 1780-1781." The New England Quarterly 85, no. 3 (2012): 430-67. Accessed April 14, 2021. http://www.jstor.org/stable/23251387.
"Mary Gould Almy." History of American Women (blog), April 2009. https://www.womenhistoryblog.com/2009/04/mary-gould-almy.html.