2024 Elizabeth Alexander Creative Writing Award submission will open from October 15-December 31, 2023.

About the Award
The Elizabeth Alexander Creative Writing Award celebrates an author whose work embodies the lyrically powerful and historically engaged nature of Dr. Alexander's writing. We aim for this award to highlight different forms of knowledge production that emerge from the artistic, political, and cultural advocacy undertaken by women of color nationally, transnationally, and globally.
Eligibility:
The award is open to all genres, including: poetry, fiction, play scripts, and non-fiction. All submissions will be judged blind, please do not include any identifying information or contact information in your manuscript. A separate title page may be included with your submission, but is not required. We only accept previously unpublished work for publication. Simultaneous submissions will not be considered.
POETRY
Manuscripts of 3-5 poems should be typed and formatted according to genre conventions. Please include all poems in one document. 
FICTION AND NON-FICTION
Prose and non-fiction manuscripts should be typed, double-spaced, Times New Roman font, and no longer than 7,500 words. 
Works engaging with feminism, race, and transnationalism will be prioritized. Translated works and manuscripts in languages other than English are encouraged as well.
PLAY SCRIPTS
Play scripts should be typed, Times New Roman font, and no more than 5,000 words.
Guidelines for Applying:
SUBMIT YOUR MANUSCRIPT ON SCHOLARONE, CLICK HERE. Any hard copy manuscripts received will be recycled unread.
Please designate "Elizabeth Alexander Award Submission" as the article type for your manuscript (see below). All misidentified submissions will not be considered for the award. Manuscripts should be submitted as Microsoft Word or PDF files.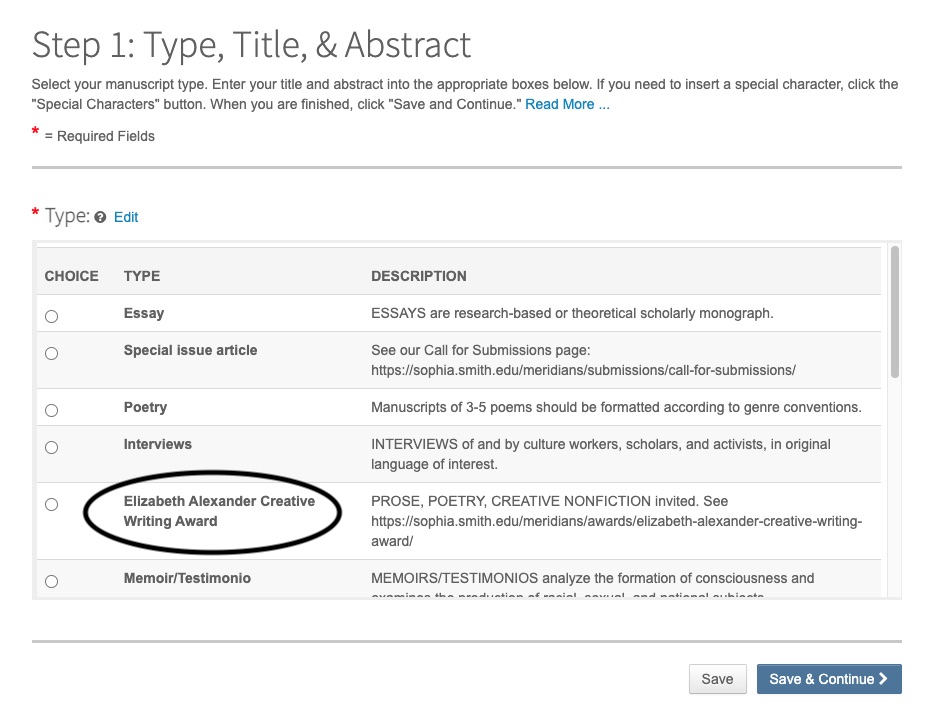 The submission period for the 2024 Awards will be open from October 15th-December 31st, 2023.
Award Review Process
Submissions will be reviewed anonymously by members of the Creative Writing Advisory Board and by readers with expertise in each genre. For more information about our Creative Writing Advisory Board, please click here.
Meet the Current & Past Winners
2023 Creating Writing Award Recipients: Yalie Kamara & Cece Roth-Eagle
2022 Creating Writing Award Recipient: Barbara Jane Reyes
2021 Creating Writing Award Recipient: Gwendolyn Maya Wallace
2020 Creating Writing Award Recipients: : Adrienne Perry & Nancy Kang