Celebrating Intersectionality!
A joyful, eclectic mix of diverse alums gathered April 11, 2023 in New York City, to celebrate the new endowed status of the stellar journal Meridians: feminism, race, transnationalism. For over 20 years this award-winning publication devoted to Women of Color (WOC) has been sustained by Smith College President's Office discretionary funds! Now, thanks to generous alums, Meridians is here to stay!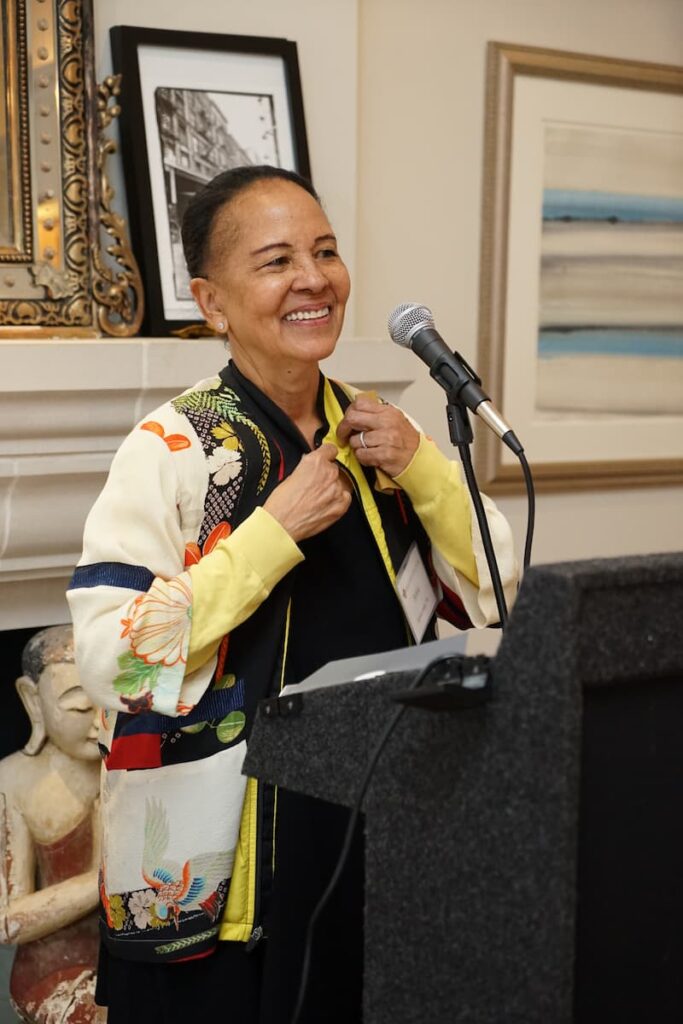 Program Highlights
Trustee Emerita Debbie Berger '86 and Sylvia "Cookie" Wong Lewis '74 welcomed a room full of buzzing Smithies. Alison Overseth '80 Trustee and Smith Board Chair shared greetings from the Board of Trustees. Denise Materre '74, Vice President for Alumnae Relations, shared her thoughts on "Why We Gather to Celebrate Meridians."
The two keynote speakers Professor and Editor Ginetta E.B. Candelario '90 reflected on Meridians' victories and plans for the future. Her ambitious and wide ranging vision for the journal was moving and inspirational. Professor Paula J. Giddings, Editor Emerita (2005-2017), talked about advancing our history and legacy. Her personal reflections on the early years of Meridians with Ruth Simmons, Toni Morrison, and Gloria Steinem were remarkable.
A lively Question and Answer session was followed by Denise Materre '74 with her "Call to Action." Meridians signature color, purple, was a theme for the lovely swag bags full of Meridians goodies.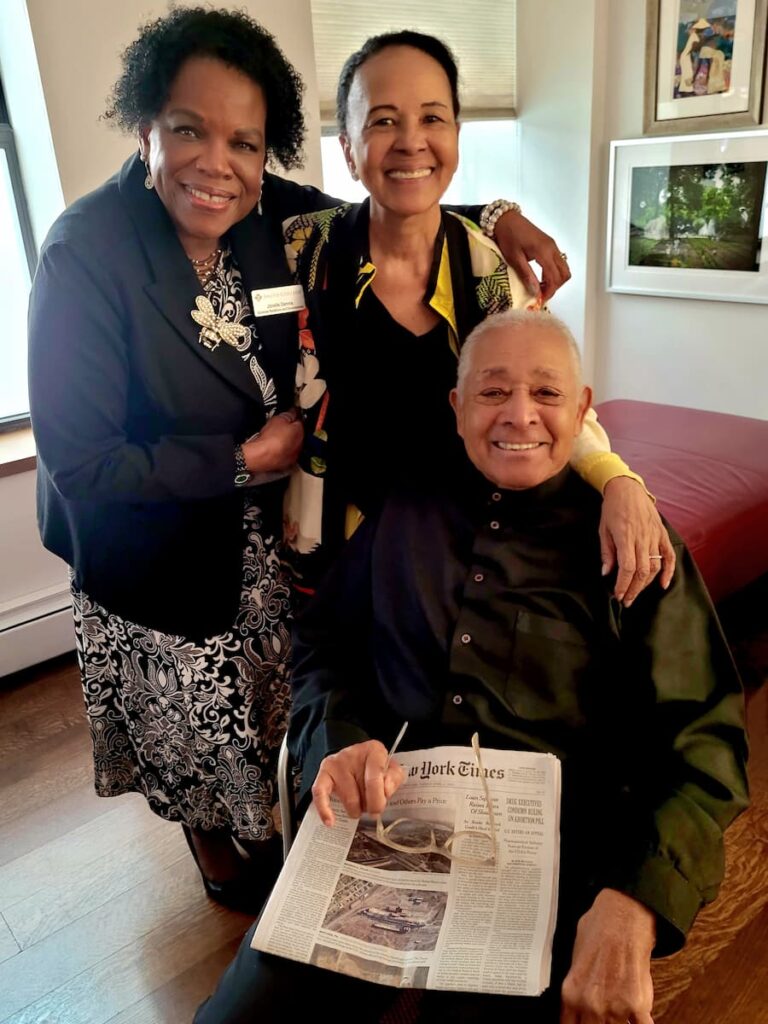 Greetings excerpts:
Debbie Berger '86:
'Let them hear us!'
"Aloha everyone! I'm delighted to be here with you all to learn more about Meridians and hopefully, to celebrate together, what Meridians has done in 20-plus years of existence, what it is doing now and its future possibilities. As we know from news in the world today, the journal's mission, to showcase the voices and scholarship of women of color, locally, and globally, is more important than ever.
As you will see tonight, Meridians exemplifies Smith's values. It's a journal of high scholarship centering the voices of women that the world is not accustomed to hearing from. Well, let them hear us!
I am not an academic or scholar, nor am I a journalist, creative writer, poet, or artist. But once I learned about Meridians several months ago, like you will learn tonight, I was so incredibly proud that I had to find a way to help sustain its work.
Not only is Meridians at home at Smith, Meridians was founded at Smith. I invite you to be inspired with me tonight by Ginetta and Paula, and by what Meridians is and will be with your help and support. Thank you all so much for being here."
Sylvia S. Lewis '74:
'Wish we had this in the '70s'
"It's my pleasure to welcome you. As some of you may recall it was just a few years ago (pre-Covid) when we were re-introduced to Meridians by Ginetta right here in my living-room.
Byron and I became Meridians fans when we received journal copies to gift to our alum guests for an Otelia Cromwell Day event we hosted. We love the Meridians mission and work. We are deeply impressed by the quality of its scholarship, reach and vision. That is why we are supporting it. And we hope you will join us to support Meridians too! We are grateful to Ginetta and her team for holding this event and honored to host it, which feels especially important in these times.
As women and Black Indigenous, and people of color, our rights face serious threats. We Smithies have an historic opportunity with this amazing journal to look to for inspiration and knowledge, to use as a wonderful resource as we continue to educate ourselves and move our beloved Smith community forward.
As an alum I am so pleased that this journal lives at Smith. It is one of a kind. I wish we had this in the 70s when I was a Smith student and helped to co-found the Africana Studies Department. Back then, we could only dream of a journal like this! I truly believe that Smithies today and the future will benefit from this vital journal full of intentional diverse voices."
Alison Overseth '80:
'Our world needs Meridians'
"Greetings everyone. I'm Alison Overseth – class of 80 and Chair of Smith's Board of Trustees. I'm thrilled to be here to join in celebrating Meridians. Debbie, Byron and Sylvia, thank you for hosting us. I'm honored to represent Smith's Board of Trustees tonight and express our wholehearted support for the Meridians mission and work which we respect and celebrate. I'd also like to take a moment to recognize my sister Trustees – Debbie Berger '86, Linda Charles '74, Kimberly Scott '91, Mona Sinha '88 and Beverly Morgan Welch '74. Though some could not be here tonight I want to acknowledge them and their support for Meridians.
You may know Meridians was born during former Smith President Ruth Simmons tenure – today Meridians thrives because of Ginetta's outstanding leadership. Her devotion to the journal is evident. The productive and innovative work she achieves with students and scholars is remarkable and is a testament to her commitment and the value of the journal's work.
Smith students need Meridians. As they explore their intellectual passions and aspire to become leaders and feminist scholars, Meridians is here for them. I confess, I wish Meridians had existed when I was a student! I am so glad it exists for current and future Smithies.
As an alum and Board Chair I'm delighted and proud that Smith College President, Kathy McCartney supports the Meridians vision – in word and deed. She has made Meridians a college priority and works to ensure that Meridians has the resources it needs to grow well into the future. This is good leadership! Our world needs Meridians – and I look forward to learning more about the journal with you all tonight. Thank you."
Denise Materre '74:
Why We Gather to Celebrate Meridians
"It is my joy and honor to be here with you this evening – as an alumna and as the proud Vice President for Alumnae Relations at Smith College. Thank you to our gracious hostesses – Trustee Emerita Debbie Berger '86 and Sylvia Lewis' 74 and her dapper husband Byron. Thank you for opening your beautiful home to us – to make a special space for Meridians – for us to come together to learn about and celebrate the powerful and important work of this Smith jewel.
Thank you to my fellow alums –my Smith sisters– for making time to be here. How fortunate we are that Meridians lives at our alma mater.
Our Alumnae Relations/Development team is partnering with Prof. Ginetta Candelario and Ally Einbinder '10, Editorial Office Manager, to spread the Meridians word to our entire Smith community – we are thrilled about Meridians and its great work and are doing everything we can to share the joy!
I trust you are seeing our efforts in action: you may have read about Meridians in a past summer Quarterly – or attended the March 30 webinar – you may have seen the new Meridians story on our Giving Opportunities site – you may even be in conversation with our team about making gifts to support the journal – perhaps you have made a gift — these activities reflect our collective support for Meridians.
Before turning the mic over to my friend and colleague Professor and current Meridians Editor Ginetta Candelario, I'd like to take a moment to recognize the campus team –from the Development Department Jonelle Dennis, Sam Samuel, and Marea Wexler, and Amanda Lopez of Alumnae Relations."
Call to Action
"As we bring our evening to a close, I'd like to suggest there are many ways to engage with Meridians. We hope you'll become part of the Meridians mosaic – by sharing your excitement with your friends – by posting on social media, by introducing its work to prospective Smith students – by encouraging your local library to subscribe to the journal, by subscribing to the newsletter and Journal yourself- and by making your own gift – of any size to help build the Meridians endowment. Due to the vision and generosity of an alum anonymous donor who made an incredible gift of $1M to endow the journal – it is now forever a part of Smith's institutional DNA. This is surely something to celebrate!
Giving to Meridians
Your donation of any amount to the Meridians endowment will help amplify the voices of women of color.
And we, as alums can build on this beautiful legacy by making gifts – of whatever size that makes sense for you. Ours is an inclusive community – and we are committed to ensuring that every alum knows her support is welcome. We've provided the Meridians giving link to you at the bottom of this evening's program. We invite you to explore it at your convenience.
As we conclude tonight – my hope is that each of you leave this evening having found something within Meridians that strikes a chord -and you will begin your journey with this wonderful resource that all of Smith is proud to call its own." – Denise Materre '74