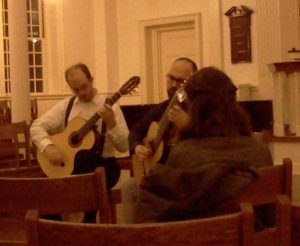 There is no better way to recharge from a hectic day than by listening to the relaxing sounds of the guitar. That's exactly what I did last Wednesday, when I attended the Athens Guitar Duo concert, held as part of the fifth season of Smith College Festival of Sound and Space.
Dusty Woodruff and Matthew Anderson, the musical duo, met while studying at the University of Georgia. Formerly part of a trio, Woodruff and Anderson have performed together for nearly a decade. They include a rare eleven-string guitar that extends the ensemble's range. As a result, their arrangements are diverse and creative.
With doughnuts and cider available for the audience, the concert was both entertaining and soothing. In the midst of preparing for finals, I enjoyed taking a break and listening to these skilled musicians.