Ramadan Mubarak! Blessed Ramadan!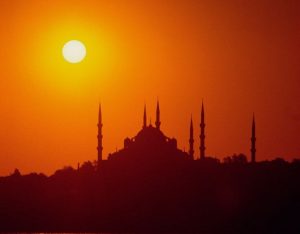 For Muslims all across the world Ramadan is a special time of year. Muslims use the month of Ramadan to grow closer to the Creator and renew their commitment to their faith. Learn more about what Muslims experience during Ramadan, why they fast, and the benefits of practicing Ramadan.
 FAQ about Ramadan at Smith
1. What is Ramadan?
Ramadan is the Muslim holy month of fasting. Fasting is one of five pillars of Islam. It commemorates the month in which Prophet Muhammad began receiving The Holy Qur'an through divine revelation. It is also the ninth month of the Islamic lunar calendar. This year in North America, Ramadan begins at sundown on May 5 and ends on June 4, lasting 30 days. In the midst of their normal activities Muslims spend time fasting from sunrise to sunset, performing charitable deeds, making prayer, and striving to read the Holy Quran in its entirety. It is a time of deep personal refection on Allah (God), and a time to embody the core values of Ramadan: self-control, expressing kindness, resolving conflict, spiritual renewal and purification.
Why do Muslims fast for a month?
Ramadan is a time for Muslims to reflect, become closer to Allah (God), spend time in prayer and read the Holy Qur'an.  Abstaining from food, drink, smoking, sexual conduct, and indulging in anything that is in excess or ill-natured from sunrise to sunset is done in order to instill self-discipline and patience.
When are you allowed to eat and how do you break the fast?
Muslims fast from sunrise to sunset. Before sunrise, they eat a meal called suhoor, which is meant to sustain them throughout the day. The fast is broken after sunset, with a meal called iftar, which usually starts with dates and water.  Special foods and festive meals with friends and family are customary. Dining Services has made special arrangements for fasting students to obtain their meals for Ramadan.
Do children fast? Are there any exemptions?
Sometimes children fast for just a few days of the month until they reach puberty, at which point most children try to fast for the whole month.  For those who are pregnant, menstruating, nursing, sick, mentally ill, elderly, traveling or otherwise unable to fast, it is not required.
What will Muslims do during meal times at Smith?
During meal times many Smithies go to the library and work or else catch up on sleep! Some Muslim students may be out late to attend prayers, so they need to catch up.
Is it OK for me to eat or drink in front of my Muslim friends, housemates or students?
Yes, of course. Just be mindful that your friends, housemates and/or students may be  fasting!
Is there any special greeting during Ramadan?
"Ramadan Mubarak," or "Ramadan Kareem," loosely translated as "Blessed Ramadan." The day after Ramadan ends is a special celebration called Eid-ul-fitr. On June 4, 2019 we greet each other by saying "Eid Mubarak" or "Happy Eid."
Are there any spaces available on campus for Muslim students to pray during Ramadan?
Yes! The Blue Room in the lower level of the Helen Hills Hills Chapel and the Wright Hall Prayer Space in the lower level of Wright Hall are both available for students to pray on campus. Contact Kim Alston (kalston@smith.edu) to gain access to the Wright Hall Prayer Space.