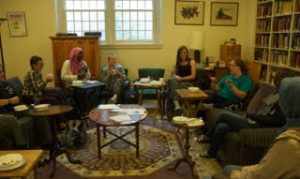 With the lasting euphoria of a mountain day well spent, the aroma of pumpkin spice lattes filling the air, and the fringes of foliage changing colors, it's clear that the autumn season has arrived. Last Friday, September 29, members of the Smith and greater Northampton community gathered in Bodman Lounge and exchanged their thoughts on autumn while enjoying a freshly cooked meal during the weekly "Soup, Salad, and Soul" lunch discussion. The conversation was not led by any particular person but rather developed organically as people felt compelled to speak.
Topics such as music, busyness, Halloween and squirrels came up as the group reflected on their experiences with autumn. Conversation developed from agreeing on the shared, more general experiences to noticing and appreciating nuance in the environment. To paraphrase a few of the comments made, members of the group noticed how in tune squirrels seemed to be with the changing of the season and reflected on the uniqueness of Halloween, being a time where strangers come together and greet one another with candy.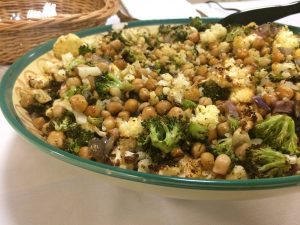 Conversation took a philosophical turn when a student, Halimat Ipesa-Balogun, brought up the quote "Nothing in nature blooms all year. Be patient with yourself." This message seemed to resonate with many people and provided a transition into the topic of fall traditions. The group talked about the accessibility of traditions like baking apple pie or carving pumpkins. Traditions that we all experience individually yet share in the essence of. One of the group members, Rhonda Shapiro-Rieser, who is also the Jewish advisor at Smith, made the comment, "traditions are grounding and anchor memory." Every year, each of us will hear the same bell the morning of Mountain Day, anchor our memories in the commonality of traditions such as these, and be grounded in the comfort of experiencing what this tradition means to each of us individually.