The well-known activist, artist, academic, and author Sonia Sanchez gave the keynote address for Otelia Cromwell Day. Students gathered in John M. Greene Hall on November 3 to hear Sanchez's address entitled "Activism in Art: An Afternoon with Sonia Sanchez," all the while celebrating the first African-American graduate of Smith College, Otelia Cromwell.
The newly formed Black Campus Ministries Praise Group known as "Blackappella" and directed by Cai Sherley '19 performed just prior to Sanchez speaking. They did a beautiful rendition of "Wade in the Water Medley" which, I thought, created a hopeful yet serious space in which Sanchez could speak. Adding to the mood, Precious Musa '18 read aloud the poem "Maven" by Nikky Finney and the award winning video "Life and Legacy of Otelia Cromwell" was played for the audience.
Sanchez gave an inspiring talk touching on themes of the meaning of culture, how we should progress, and the embrace of free spaces. She wove in her artistic talents with her message, performing spoken word poetry during key parts of her speech. Sanchez openly shared about her background and family, which allowed the audience to connect with her as a person before receiving her message. She actually began her speech with a joke by her father and shared that her brother was in one of the first electrical Unions in NYC.
Sanchez also boldly challenged the audience to think and take action. She did not shy away from bringing up parts of American history that we too often try to forget such as the Japanese Concentration camps during World War II. Sanchez empowered the audience to "decide what to live for" and encouraged everyone in the room to get an education "because it will free you."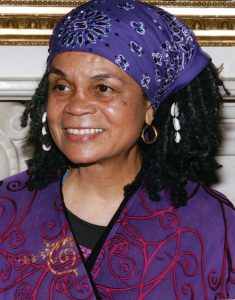 Sanchez closed with three powerful questions. The first was "how will we challenge ourselves?" Living day to day and allowing ourselves to fall into the schedules built around us is easy, having large goals and vision for your life is hard. The second question she asked was "is there a nonviolent peace army?" So, even if you have a vision for your life and the impact you'd like to make on the world around you, what will your strategy be? Will it be peaceful? The final question that Sanchez posed to the audience is "can we position ourselves in freedom spaces?" This resonated very strongly with me. Are we in spaces where free and diverse thinking is encouraged? Do we listen to the opinions of those that differ from our own?
Otelia Cromwell is a wonderful example of Sanchez's call to action embodied. She came to Smith and took on academic, social and cultural challenges. She dedicated herself to the cause of education and nonviolently sought change. She positioned herself in free spaces, which allowed her to dream bigger, think larger, and inspire more.