First-year student Yacine Fall wrote the following paper for her English 118 course, "Youth Activism"; the assignment is to write a photojournalist essay on the life of a Smith student. She chose to look at what it is like to be a Muslim student on campus. Yacine is from Harlem, New York. She is an active member of different clubs and groups on campus like Al-Iman and Student Government. She is very passionate about social change on campus and in the world.
"They say college is the place that will make or break your spirituality," Nadia Aman told me one Friday night as we spoke about being religious at Smith. Ever since, I have been pondering over the question, "How does college mold one's spirituality?" We are in a time where secularism is increasing and to practice a religion is to be marginalized. Then to practice Islam specifically is a political and radical act. Colleges pride themselves on diversity, and they acknowledge that spirituality is one of these factors. However, what happens when students are brought to campus to contribute to diversity and not given the proper accommodations needed to survive on campus? What role does Smith play in the lives of Muslim students on campus?
I am from New York, and besides always being surrounded by the bustling city, I always took for granted the extensive Islamic support system I had there. I went to Arabic school every weekend for ten years  and I valued the education and friends I acquired there. Coming to Smith, I did not expect to not have this structured system of learning about Islam to impact me. Nonetheless, it was shocking going from an environment of learning Quran every week, having any questions I have being answered, and seeing black Muslims memorize the entire Quran, to an environment where black Islamic excellence, spiritual stimulation and learning is independently driven. I expected to enter an environment that fostered  learning about Islam, but there seemed to be a perception that to be Muslim on a college campus was an identity to be spoken about as opposed to an evolving identity that we are still learning how to embody. I conducted a group interview as well as individuals ones to understand what the Muslim identity on campus consisted of.
The Privilege of Community
Many Muslim students interviewed deeply appreciated the Muslim community on campus. Not because of what the Muslim students do on campus, but simply having a community. Aysha Afzal stated, "This is the first time I had so many Muslim friends. Having Muslims who are not just Pakistani but from different ethnicities is really nice because of diversity." Some people come from backgrounds where being Muslim is a very isolating experience: "I didn't have Muslim friends in high school and I was the only Muslim girl in my grade. It was nice coming here and seeing how many Muslim friends I have on campus."  Hafsa Hanif added in, "I grew up in a place where there were a lot of Muslims, but none of them  were focused on going to college and having a career." For students like Marva and I who came from the big apple, we did not expect there to be as many muslims as there were in our diverse community. Marva Tariq stated, "I feel less homesick at Smith being able to have that community again."
The Sanctuary
When talking about what students valued most on campus, the same term kept surfacing repeatedly: The Sanctuary. As stated in a piece written by Emmett Wald on the blog for the center for religious and spiritual life, Helen Hills Hills Chapel "offer[s] students sanctuary from their busy, task-oriented lives." When you walk through the grand white doors and follow the winding stairs to the ground floor,  you will find a hub for spiritual support and growth on campus.  For Muslim students especially, the chapel serves as a literal sanctuary and space on campus. Here students have spoken about the importance of just having a space where they can de-stress and pray or just a peaceful environment to do work.
Su'di Abdirahman, a co-chair of Al-Iman for the 2017-2018 year, provides many examples of how the chapel has supported her needs as a Muslim student: "The chapel is always there ready to support with funding or any kind of support." Ayan Nur spoke about on how they really want student feedback: "They scheduled so many meetings so they could hear from a bunch of different students. They wanted to know what colors to paint the walls. They wanted to hear every single thing that we could possibly say." She laughs "they value our opinions." So who is the great engine of the chapel?
I had the opportunity to interview Matilda Cantwell, the director of religious and spiritual life and college chaplain, who wants to create a space for Muslim students to be in community with the goal of "spiritual flourishing" because, as she put it, "You can go and be Muslim, but that does not mean you're flourishing religiously." I found myself nodding along to a lot of the things Matilda said about the multitude of ways the chapel has been a foundational support for Muslim students, but also the many ways it can improve. Her work is meaningful to her because of her ability to interact with Muslim students. "Being a person of faith, you are already a minority, so we stick together. Being Muslim is not as easy as being Christian or not identifying because of Islamophobia and the stigma in society. Our spiritual work is intentionally geared to supporting the Muslim community." She also has an underlying drive for what she does: "Countering the dominant narrative in the world and knowing that silence is complicity if you do not speak out against it." Her work with Muslim students is more than just support, and she understands that standing with Muslims today is never solely about the job, but allowing our identities in faith to be visible on campus.
Needing More Support
I could relate to the sentiments the Muslim students were talking about. Before Smith, I never heard about Eid dinners or having multiple prayer spaces on campus. Being a Muslim student at Smith comes with the privilege of celebrating Islam a little more freely than would be true in other college campuses. Nevertheless, though Smith may be doing better than other institutions, there is a lot more that can be done to better the Muslim experience. Sanna put it nicely, "When I first came here I was like wow Smith's so cool, they have a prayer space and halal food and stuff, but over time I've just gotten used to it and want more. Like better halal food, a chaplain maybe," she emphasized. "Being able to have a real advisor for Al-Iman; an adult person we could go to to talk about Muslim people stuff."
The need for a Muslim Chaplain stems from needing a trained advocate. Muslim students could benefit greatly from having someone who can guide us in the religious training I referred to earlier. Hearing that other students want to learn about Islam but do not feel like they have the adequate resources gave me a sense that I was not alone in looking for spiritual fulfillment, but it is a void that we're told cannot be filled at the moment. As Sanna and Shakira put it, we are not experts. Our curiosity as students drove us to be Smithies and our aspirations of knowledge wants to be fulfilled outside of academia.  
Muslim Visibility
When talking on the experiences of Muslim students at Smith, it is very easy to talk about issues as they relate to Smith as a larger institution. But rarely is the relationship between Muslim students, peers, and faculty spoken about. This is not to promote an "us vs them" mentality, as we have friends outside of the Muslim community. However, the struggles and exhaustions of being a Muslim student on a college campus are hardly brought up when speaking about the experiences of being a minority student on campus. I experience this when issues of intersectionality are brought up. I remember in my first few weeks on campus I was questioned about why I was going to a general board meeting for the Black Students Alliance (BSA) when I had Al-Iman, as if those groups were made for people of an exclusive identity.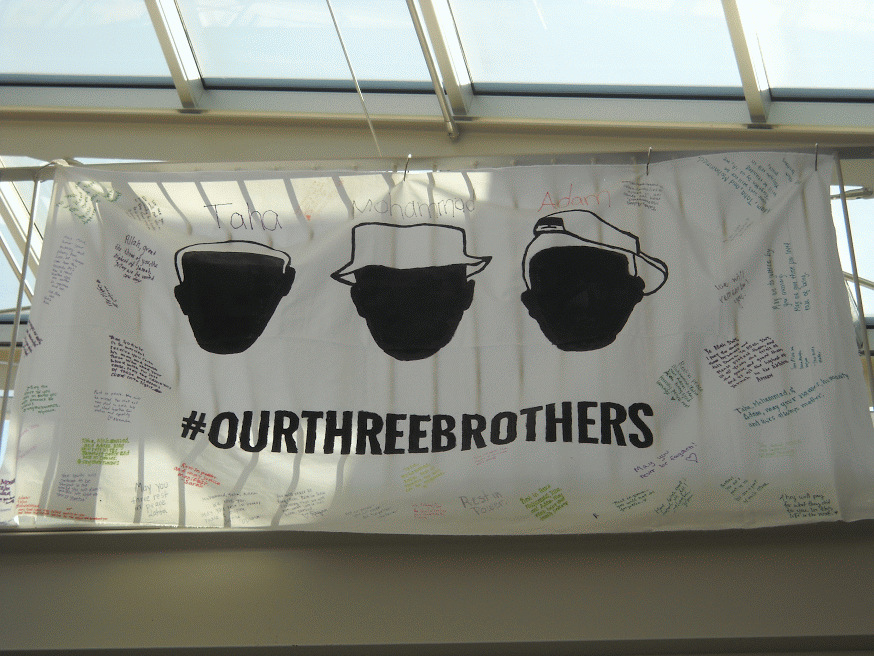 Other black Muslims shared issues with intersectionality that they face. Shakira and Su'di narrated about the #OurThreeBrothers vigil that was held for the three African-American, black Muslim men murdered execution-style in Indiana. Though Al-Iman and BSA held the vigil, not many BSA members came, which was uncomfortable to Shakira because "a lot of people in the Muslim community are black." Su'di added, "We tried to have a vigil here but you could see how empty it was. Where was the connection? Where was the outcry?" Yes, students are busy, but when things they find worth advocating for come up, they show up. We shouldn't feel like we're not black enough for the black community or not Muslim enough for the Muslim community.
Nadia Aman voiced a different issue that sometimes comes about: white savior mentality. "People aren't as educated about things and want to save Muslims. But they're not educated and they do not realize that Muslims don't need saving." She gave examples like people saying, "you don't have to wear that [hijab] all the time, or around campus, we're all women here," and Trump's election inciting the need for many white people to apologize to her or talk about Muslims being deported. Many interactions about Islam are usually very political, and it does not need to be that way. I agree with Nadia that there needs to be a space for people to just learn about Islam.
Integration of the Muslim identity
During the group interview, Salma Khan, a current senior, said something that brought the issues I face being a Muslim Smithie into perspective:
"My political identity is well accepted on campus, but not necessarily my spiritual journey or religiosity. Due to recent political climate, being Muslim and our identities being politicized is making us tokenized now. For example, if we are in leadership positions, outside member say wow there's physical diversity, but they do not consider if intellectual diversity is being negotiated when things are being passed. Does the diversity carry value or are we photo ops for the school? Sometimes it feels like we're photo ops for the school. When we contradict authority and administration. That's when you see internalized Islamophobia going on."
Salma articulated the disconnect of diversity on campus and had me realize that diversity currently is treated like a noun. However, it should be a progressive verb since diversity and accommodating marginalized groups of people needs to be an ongoing process. Action on diversity should not stop when quotas are filled. As first year class president, I wonder how my perspective of being a black, Muslim woman is considered when it is time to make decisions?
To be Muslim broadens beyond a name. It is a way of life. Though there are many Muslim students who want to walk freely as Muslim, there are academic constraints that prevent us from doing so. Aysha, for example, said, "It broke my heart that I couldn't go to Jummah prayer because of my Friday lab." The class day schedule does not allow flexibility to accommodate prayer times, and students constantly have to choose school over their Islamic responsibilities. Salma gave the example of when she was fasting she would need to pray, but she wouldn't be able to because of her SURF work. She stated, " It's okay to be Muslim, but when your religion interferes with the coursework that when you have to pull your identity to the side." This is an unfortunate reality, so how can we change it?
Where to Go From Here?
Smith College has done a lot to support Muslim students thus far, but there is no doubt about how much more can be done as an institution and among the student body. It is important that Smith live up to all aspects of diversity, not only in numbers but in intellectual and cultural integration. Our identities as Muslims on this campus matter because, as Sanna put it, "It keeps me sane in this Smith college craziness but also with all the difficulties in the world, it was nice to have something to come back to." My Muslim identity is an integral part of who I am, so it is time that we allow it to have more space to flourish here.