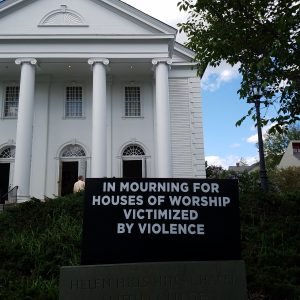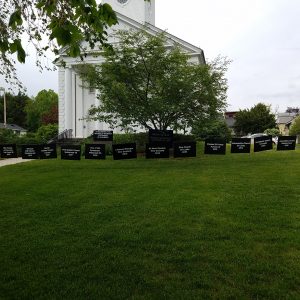 Christchurch, Sri Lanka, San Diego. In recent years there have been increasingly common attacks on places of worship all over the world. In our diverse international, multi-religious, multicultural community here at Smith anywhere a tragedy happens will likely touch someone. Yet at the same time, in the words of The Rev. Dr. Martin Luther King, Jr. —Whatever affects one directly, affects all indirectly, and we are all grappling with the rise in mass carnage as it is directed against civilians, outside the context of war or occupation.
We vigil for each loss–to show our solidarity and to demonstrate that hope for peace transcends our hopelessness. To Vigil means " to stay awake" or pay attention." And for this reason, we will not stop.
But this spring, as the trees began to fill in with leaves and the blossoms emerged, we found ourselves needing to demonstrate a pattern–not to shock  or demoralize, but to draw attention, and be in community. To state the obvious, those who died by the hand of violence, did so in a place that they sought for safety, for refuge, for hope, for faith. Thus, the violence carried out there can function as an assault on people's deepest convictions and sense of security.
So we chose to use words, but in a different way.  And to use images: the green grass of spring, the blossoming trees, new life expressed in thickening green leaves. We language our reality.  We remember by naming. Thus the sign project was born.
A house of worship isn't a building. It is a living, breathing, loving thing.  Places of worship and their congregations develop individual personalities, interests and expressions. No two are alike even within the same denomination.  A house of worship is a spiritual ecosystem, a whole made up of, and greater than the sum of its parts. It is a place where generations of people have rejoiced and mourned and prayed and sung together. This is how such places become holy.
And so a house of worship can be injured, traumatized, violated.  We can not bring back the lives lost in these houses, but we can enter into sacred space with them.
Therefore we, as a multi-faith, religiously pluralistic Center, housed in a beautiful historic building, have installed the names of each houses of worship where crimes of hatred, white nationalism, extremism have been perpetrated. We hope the signs remind us that this is what hatred does.
We do not know how you have responded to this installation–please tell us. We imagine that maybe you, like us will be reminded to  "resolve," in whatever ways we can, to not tolerate hatred in any form because "Hatred has no place here."
Rhonda Shapiro-Rieser contributed to this post.