Racial Trauma for Blacks is a prevalent phenomenon that cannot be disputed yet it is so commonplace that it has been normalized. Every day the U.S. global majority (an alternative term for people of color) face the damaging effects of racial trauma. During Barack Obama's presidency there was a misnomer that America had entered a post-racial era. Although this could not have been further from the truth, this false narrative was thrust into public consciousness. This notion was quickly disproved with all of the problematic issues surrounding race that continued to surface during his administration.  A July 8 webinar I attended for professional development, entitled "Racial Trauma in Troubling Times" Professor Emeritus of Social Justice Education at the UMass Amherst College of Education Barbara Love, Ed.D., unpacked the meaning of racial trauma with participants.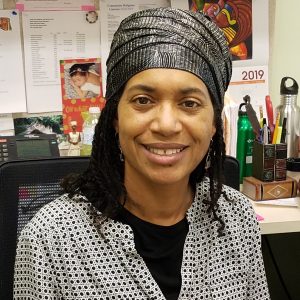 She said we hear discussed the misconception of "post-traumatic stress," referring to the hurtful contorted experience of descendants of enslaved Black people in America, which according to Love is not in the past but shows up daily as hypertension, diabetes, heart disease, stroke and other debilitating diseases.  Racial trauma is as real as we are alive. COVID-19 reveals it; state sanctioned violence and killings of Black people demonstrate it; and underlying conditions that plague the health and welfare of Black people determine its heavy price. My immediate family has lost two cousins, an uncle, a close personal friend, and several associates to the scourge of the corona virus. How does death and loss affect the psyche – loss that does not allow proper grief for a loved one, no closure, squeeze of the hand, or loving embrace?
Love laid out the scenario like a wise caring friend, reminding the muted audience that expressing feelings of terror, desperation, rage, loss, grief, and/or isolation are natural responses to what Blacks are living through during these uncertain and dangerous times. She then shifted the energy, adding gently that "Your rage is righteous. Feelings are to be felt, (but) not organized around; notice them and let them go so clear actions can be taken."
It is extremely difficult to let these feelings go when we witness the death of Black people at the hand of white law enforcement. One statistic she quoted sent shivers up and down my spine. From 1991-2001 the state of New York reduced the higher education budget by $100 million dollars, shifting its budget line item in direct support of an increase in the state's police and penal systems. No wonder there are vocal calls to defund the police. I know firsthand what it is like to have loved ones in what is commonly known as the belly of the beast; their lives destroyed; dying behind the wall. These issues are close to my heart and soul and contribute to the racial trauma many of us experience on a regular basis.
Government priorities have been co-opted by the powerful who have ignored justice and denied any culpability in today's world-wide crisis. As I listened to Love talk about the deaths of Breonna Taylor and George Floyd as "nothing new," being in a long line of police killings in the Black community, my heart ached and my head began to throb. It renewed my rant of  Fannie Lou Hamer's famous line of "I'm sick and tired of being sick and tired." Yes, post traumatic racism for those with Black families, sons, daughters, babies, elders and agonizing memories of institutional misdeeds is a living nightmare.
If you can imagine not being able to rest in your home, (that is supposed to be your personal sanctuary), she said, because a police officer might take your life or the life of your loved ones at any given time, you've stepped into the world of America's global majority.  Like a call and response I ask, what will it take to make the needed changes in our society to respect the sacredness of the lives of Black people? Response: The people to stand up like they are now. How can we throw off the yoke of internalized racism as a debilitating force that wrestles us to the ground and threatens to overcome us?  Response: By relentless grassroots organizing by people that look like you and me.
Love offered what she called a liberatory consciousness to help with this dilemma. In other words,  everyone has the responsibility to struggle and pick a side in this battle for racial justice. Why? Because Black Lives Matter. What framework are you willing to dismantle and build a new right here at Smith, where we stand, where we will mask up this year? With allies, will we develop a clear vision of the world, the campus community, the residence halls we want? These were the type of questions that Love prompted us to consider. COVID-19 unmasked so much of what America was hiding. Are we now willing to change, recast, and transform into liberatory consciousness?"
Prophet Muhammad offered a profound methodology in combating injustice. It was his uncompromising faith in the universal justice of the Supreme Being that fueled his ability to make unprecedented change in opposition to insurmountable challenges. Today we have a similar call. Starting with new vocabulary, a new spirit of hope and the resolute possibilities of radical change, we can create a vision as Love states on her web page that will "foster the creation of liberatory consciousness for personal, organizational, and societal transformation."
So like all of the prophets of old,
I remind us to succumb to God's command,
For a thirst and hunger for society's good.
To forge forward with sentimentality
that builds strength and navigates
Power in the implausible that has dogged the
future but now lays waste to a new beginning.
Shall we overcome or shall we come to power
With a world of inventive solutions, strategies and
Methods that crush the wicked machinations
Of the past and herald in innovative configurations?
(Kim Alston is the CRSL Muslim Student Adviser.)