"I love being a kind of Willy Wonka of plants, saying 'welcome to my magical world of dirt and leaves and tactile, experiential learning,'" shared Gaby Immerman, landscape and education specialist at the Smith College Botanic Gardens.  Seated in a lab classroom at the back of the Conservatory, through a room bursting with mums and past a tall banana tree, Gaby sat on a stool next to her closet of microscopes and spoke with passion about her role as "a portal, a point of engagement" at Campus School and beyond.
Now in her nineteenth year at Smith, Gaby has many roles: college lab instructor, director of the Botanic Gardens' summer internship program, and lecturer, teaching biology courses called Plants in the Landscape and Botany for Gardeners. She is also a past Campus School parent who "floated up" through the school with her son, collaborating with teachers to integrate the Gardens into classroom curricula.
Gaby brings to Smith a wealth of experience in her field. She started working in a plant nursery at the age of fifteen and knew, from that moment, that horticulture was her passion. From working on farms to mowing lawns, Gaby immersed herself in the outdoors while negotiating "the feeling that there was this disconnect between what I loved to do, and what I was supposed to do." In her twenties, in New York City, Gaby delved into community gardening and realized, for the first time, that "horticulture could have community organizing and social justice [components]… it wasn't just planting shrubs or raking leaves."
At twenty-nine, Gaby ventured to Smith, bringing with her a wealth of experiential knowledge that bolstered multidisciplinary learning. "My work experiences very much underpin my teaching," she said. "I'm a very strong voice to young people about pursuing what you love to do…. the students really appreciate that, and it makes our classes stand apart from classes that are abstract, critical-thinking, and theory-based. I'm a little bit subversive in that I am so skills-based, and it's fun to be that outpost in [students'] very heady week."
Hearing Gaby speak about her educational involvement with Campus School, however, it is clear that skills and intellect cohere, both in Gaby and her students. Working with first grade teachers to facilitate a year-long tree study in which students pick one or two trees on campus to observe, draw, and research, Gaby shares with teachers her college-level phenology curriculum, in which "students observe recurrent biological phenomena," and works with them to adapt that curriculum for first graders. Whether it is the weeping beech outside of the Hopkins dormitory, ("an amazing gumdrop of a tree"), or the maple right outside of the Campus School entrance, Gaby provides "direct education, advising, coaching, and technical assistance" to students and teachers alike.
"If you look at a tree in the summer, there are no buds present," she shared. "But right around the end of August or the beginning of September, the tree looks the same otherwise, but the buds form, so leaves are still on the trees and they haven't turned colors yet, but right at the axil, where the leaf petiole meets the stem, there's a bud sitting there. [We think about questions such as] 'What's a bud? Why did it appear? Why did it appear in September? What are buds all about? Did you know that yellows and oranges are there all along, and that the green disintegrates?' We talk about temperate dormant strategies. If you're a first grade teacher who's not a botanist, you might not necessarily observe that in September, if you get students out there early enough, you might be able to show them the leaves before buds are present, and then as they form. Even though I'm not there at the tree observation, I've kind of coached teachers a little bit to know how to guide their first graders and what leading questions they could ask them."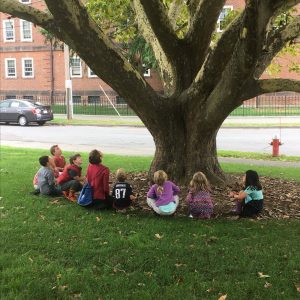 Moving up in grade level, Gaby works with fourth grade teacher Tiphareth Ananda, who brings her students to the Botanic Garden's Lyman Conservatory to deepen their studies of the rainforest, environmental conservation, and changing biomes. There, they learn about plant adaptations in the tropical and desert rooms, the latter of which houses plants that "have such dramatic, unusual adaptations—big, fat succulent stems and thorns rather than leaves… really, really dramatic responses to their environment." During the investigation, Gaby and Tiphareth split the class in half and ask both groups to come up with "three strategies for plant adaptations in a dry environment, three strategies for plant adaptations in a moist, shady environment… and then we bust out the microscopes and do a leaf inquiry," in which Gaby shares leaves that have unusual textures or patterns. "I'll use microscopes with first graders too, if enough parents come along!" she added, emphasizing the ways in which the Botanic Gardens are spaces to be shared.
And Gaby points out that those Botanic Gardens extend far beyond the building by the pond, the site  that most people envision when they picture the Garden. While Lyman Conservatory is home to twelve greenhouses—nine that are open to the public– the entire campus, including the Campus School, is an arboretum. Every "woody" plant is labeled and planfully curated in the same way that species in the greenhouses are. Beyond that, there are the "named gardens": the President's House garden; the Capen Garden; the dwarf conifer garden; the Richardson perennial border; the systematics garden, whose 2,000 plant species offer "an explosion of complexity and diversity." "A Botanic Garden is a museum of plants," Gaby said. "We have a living collection. Every single piece is called an accession, which means it is an entity within the collection: it has a number, it has a record in a database… a 'known provenance,' as we call it in the trade… where it came from, who purchased it, who propagated it. Furthermore, if you think about [and compare us to] the Art Museum, there's a curator. Somebody's making those decisions: they are both accessioning and deaccessioning. For example, we have a very strong collection of what you call economic plants: coffee, bananas, cinchona– the plant that you get quinine from– and the original rubber plant used before we had synthetic rubber… Every director has a particular interest, or passion, or philosophy. And we're having lots of discussions about good, thorny, complicated political questions about what is getting featured."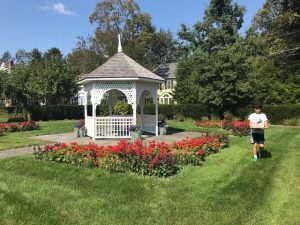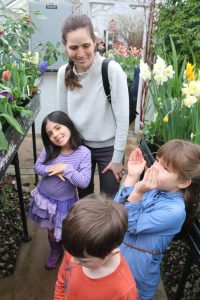 It is the "known provenance" that makes the Botanic Gardens valuable and credible for conservation and research. First graders at Campus School have the opportunity to research the surfaces of leaves in the same rooms where a cancer researcher worked to improve the breast cancer drug Taxol. "There was a [scientist] studying the genus Taxus, which is basically bushes—people call them 'yews'—the basic shrubs that are outside of nearly every bank or apartment building. His research question was 'Is there more Taxol in the Taxus from Mexico, or the Taxus from England, or the Taxus from Japan?' and we have them all, so he didn't have to go to, or send for, plant materials from all over the world; he just came to Smith and took snips from our plants and analyzed those in the labs for levels of Taxol, and then that [allowed for] a legitimate paper because of the records we keep. We could say to him definitively—yes, this one came from Mexico and Rob's the guy who brought the cutting in 1982."
The diversity and abundance of the Gardens, along with their utility, allows students and teachers to engage deeply with the world around them, and to think carefully about how that world connects to other communities and environments. "The opportunity that is presented by going to elementary school on a college campus that has a Botanic Garden, and an Art Museum, and a river, and a spatial analysis lab, and all the other amazing resources that Campus School has access to," Gaby shared in closing, "I deeply believe that [those] relationships can and should be maximized."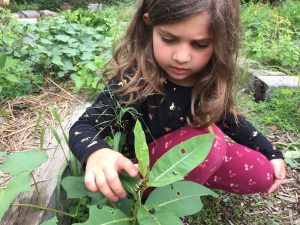 Written by Brittany Collins