Walking through the wings of Campus School on a chilly November morning, one may not suspect that the children crawling crab-walk style through a corridor are actually honing their handwriting skills. But thanks to students in Professor Bona Kang's fall course, Research Methods in Education, so it is that first and second graders engaged in games designed to improve their pencil grips and penmanship last semester (the crab-walks supporting core strength, which has been tied—in research—to improved handwriting).
From popping bubble wrap against a timer using a variation of the tripod grip, to picking up cotton balls with vibrant, neon training chopsticks (designed to look like giraffes and flamingos), the activities—in combination with pre- and post-assessments involving handwriting—allowed college students Tiffany Xiao and Nancy Canevari to pursue research questions designed in collaboration with first and second grade teachers: "What factors affect Grade 1 and Grade 2 children's mastery of the tripod pencil grip?," they wondered. "Can short term interventions be performed to improve pencil grip of these children, and if so, what kind of interventions?"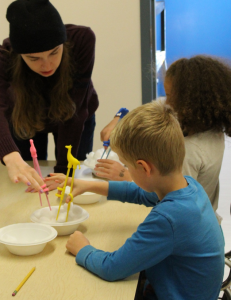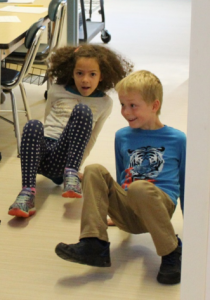 The project is just one of many collaborations born out of Research Methods, which debuted in the education department during the Spring 2019 semester. Averaging eight students per term, the course offers an intimate opportunity for college students to collaborate with peer researchers across disciplines, delve into the science of teaching and learning, and pursue authentic inquiries posed by expert educators at Campus School. Representative of a graduate school model, the course is both challenging and welcoming, with many students outside of education enrolling each term (such as Tiffany, who is graduating in January 2020 with degrees in Computer Science and Statistical & Data Sciences). "Data Science majors are encouraged to take courses outside of the STEM fields to better understand the research methods that go into collecting the data we work with," she said:
"The Research Methods course has definitely taught me about the value of qualitative data and hands-on research. I've spent a lot of time working with numbers that have been gathered by someone else, [so] it's been very eye-opening to work on collecting the data myself. I've also learned a lot about the importance of other methods of analyzing data, besides the statistical methods that I've learned during my undergraduate career… At the Campus School, I've seen [that] students are encouraged to be independent, curious learners and are well supported in their learning endeavors. The difference in school environments that I've witnessed [between my own elementary school and Campus School] has really inspired me to go back home and help create impact at my schools. I think one of the most important lessons I've learned while working with the first and second graders is that children of this age have amazing potential and can do amazing things given the right support."
Campus School benefits from this multidisciplinary involvement, as the course fosters reciprocal relationships between student researchers, elementary schoolers, and mentor teachers that are sustained across semesters. The course's renewal for Fall 2019 allowed new college students to pick up where prior researchers left off, facilitating longitudinal investigations that afford classroom teachers a deeper dive into the inquiries and problems of praxis that ignited their initial collaborations. For example, the handwriting study that Tiffany and Nancy investigated was initiated last year by different college students and a smaller cohort of teachers, thus emphasizing to college students the iterative, evolving nature of an organic research project in the field.
The community of Campus School teachers interested in allying with Bona's students is growing; third grade teacher Jan Szymaszek invited student researchers Glenda Perez and Brittany Blain to pursue questions related to her river unit this year, such as: "How are children learning about rivers? What are they learning, and what are the sources of change when they change their thinking about something? What is causing that, and why is it happening?" In addition, Smith students Jennifer Warren, Shailee Shah, and Dionna Jenkins continued a study of "math mindsets" initiated last year with Paul Matylas' fifth graders, following those students into sixth grade and expanding the study to include both classrooms. "We want to know what makes students more willing to persevere when math gets tough, and what makes them feel confident in the math classroom," Jennifer shared. "We aren't looking for new interventions but seeing what is already in place, and what is contributing to their mindsets right now, via surveys, interviews, and observations."
The course scaffolds students' understandings of education research but also empowers their agency in regards to setting up studies. In the first half of the semester, students read scholarly works covering the questions: "What is research design? What are some observational methods [students] can use? How do they code or analyze data?" Students are divided into teams, designing and executing their studies as collaborative cohorts. They spend the second half of their term immersed in field work, reporting to other groups their progress, successes, and questions during class time. "I'm [there] as a support," Bona said about her role facilitating the course:
"But they're the ones [who], once they've identified which project they want to work on, have to set up the meetings with the teacher on their own. They have to look up literature that's related to their project. They have to think about, after meeting with teachers, what they think they might be capable of collecting. Then, they come up with their own design, and then they have to figure out whether [they are going to] do interviews with students, create a survey, do observations. They have to do observations before they decide, and then I help if they have questions on what might make sense to do [research-wise]. Once they get the data, [they consider], 'What kind of story can we actually tell from this? What do we do with it?"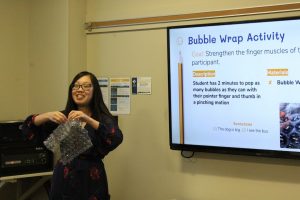 Students study both qualitative and quantitative data collection, engaging in mixed-methods research strategies grounded in educational philosophy and history. Bona herself works from "a constructivist and socio-cultural perspective," which informs the literature that she shares with her students. When considering how to interview Campus School students, for example, the class might investigate Piaget's methods of interviewing children alongside critiques of those methods, so that college students are exposed to the nuance and depth of conversations surrounding best practices in teaching and learning. Bona noted that her students "talk about how much more they appreciate what teachers do," after studying theory and participating in practice, especially those students who are not majoring or minoring in education.
"They didn't realize how much goes into it, how much learning goes into being in the classroom with the children," she said. "That was inspiring."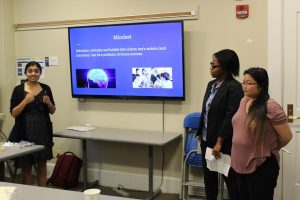 At the culmination of the semester, college students share their inspiration and inspire others through presentations of their research—from hypotheses, to findings, to next steps for future researchers—for an audience of Campus School teachers, education professors, and friends. They experience the gratification of working as producers, not only consumers, of knowledge.
And Campus School students and teachers experience fortified understandings of their work, themselves operating as both educators and learners, every participant's collaboration a fractal in this larger initiative to learn about learning. Research Methods will appear in the Smith course catalogue once again in the fall of 2020, continuing the momentum of this semester's students, and Campus School teachers or college students interested in participating are encouraged to contact her at bkang@smith.edu.
Teacher Testimonial: 6th Grade Teacher Andrea Hermans (AC '06, MAT '09)
"This fall I had the pleasure of collaborating with three Smith College students through their Introduction to Educational Research Methods class. This opportunity allowed me to share some of my teaching philosophy, and to receive valuable feedback, as these students helped me to investigate the math mindsets of my sixth grade students. 
In my seven years teaching sixth grade math, I have often thought about the myriad of factors that contribute to my students' varied confidence levels, and wondered what types of instructional practices could help to shift a less positive mindset.  Working with the students from Bona Kang's EDC 336 class, Dionna, Jennifer, and Shailee, was such a pleasure. I am so appreciative of the time they put into this project, and the layers of research and preparation it required. I was further impressed with the extensive interviews and data they collected and analyzed. The information that they've put together will be invaluable in helping me to improve my planning and instruction in math. Through our joint efforts, I now have greater insight into some of the contributing factors that affect student mindsets in math, as well as information around the types of instruction that improve student confidence.
As a proud Smith alum (AC '06, and MAT '09), one of my main goals in returning to Campus School three years ago was to take advantage of opportunties to collaborate with the college. This experience is a great example, as it provided a both learning opportunity for the Smith students, and a chance to improve my own practice as a teacher. I will definitely take advantage of future opportunities like this one!"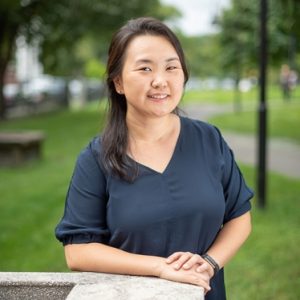 About Bona Kang
Bona Kang is a lecturer in education and child study. She earned her doctorate in education from University of California, Berkeley, with a focus on cognition and development in the domain of mathematics. Her current research draws from sociocultural frameworks and focuses on children's learning processes in mathematics and mediated problem solving activity in geometric measurement contexts.
At Smith, Kang teaches courses on the learning sciences, early childhood education, understanding U.S. secondary schools, and a seminar on educational research methods through projects with Campus School teachers.
Written by Brittany Collins