On Monday, a conversation called "We the Protesters: Policy, Discourse and the Movement for Black Lives" was held in Weinstein Auditorium, hosting a panel featuring Fordham University Political Science Professor Christina Greer, Columbia University History and Sociomedical Sciences Professor Samuel Roberts, and Smith College alumna and activist Chrislene DeJean. Moderated by Smith College Professor of Africana Studies Paula Giddings, the conversation discussed the Black Lives Matter movement, its development and changes, and implication for change in the political process.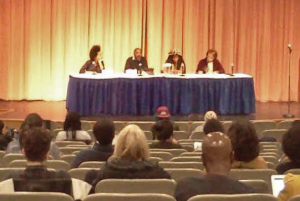 The talk was intended as a one-year follow up conversation to last year's panel discussion about Ferguson and was sponsored by the Center for Community Collaboration, the Center for Religious and Spiritual Life, the Department of Africana Studies, the Department of Sociology, and the Office of Inclusion, Diversity and Equity.
The panel began with an understanding of the founding of the Black Lives Matter (BLM) movement. Founded in 2015 after the Trayvon Martin verdict, BLM was created by Patrisse Cullors, Opal Tometi, and Alicia Garza. According to the movement's website, BlackLivesMatter.com, it is "an ideological and political intervention in a world where Black lives are systematically and intentionally targeted for demise." The popular hashtag #BlackLivesMatter has moved beyond social media and into the real world, with the formation of protests, demonstrations, national conferences, and—most importantly—the creation of space for "the celebration and humanization of Black lives."
Professor Christina Greer remarked that the Black Lives Matter movement introduced a conversation to many activists, while reminding, teaching, and galvanizing others. "I think that this movement is incredibly helpful because it is reaffirming to what so many people have known," she said. She also noted that within this movement, "women are front row and center, and queer women are front row and center."
Professor Samuel Roberts discussed the larger trajectory of BLM, referring to past movements in history to better understand the current situation. He questioned, "How is it similar to previous movements? Does it have roots in previous movements?" While he noted its similarities to the anti-lynching movement over a century ago, Roberts said the novelty of the BLM movement is in its inclusivity, in embracing trans* and queer people, drawing from different perspectives, and connecting internationally with other movements all around the world.
Chrislene DeJean discussed the tensions and complexities of BLM, especially with regard to political space. "Do we engage in political politics, and how do we engage?" she asked. "Are we trying to fix this political process, or build our own?" The conflict between dismantling the systems at hand as well as working in collaboration with the institution was a debate BLM now faces.
Greer then discussed the issue of tension in the political space, noting that tensions specifically within black political organizations are "very exciting to people in the press and people in general." She questioned how "do we make our concerns and differences known in a way that is productive" instead of it being co-opted by those attempting to end the movement by ripping at the differences within the movement.  Further addressing this issue of tension, Roberts added, "I think a certain amount of tension is inevitable and I think it can be productive as well." Dejean agreed, saying that tension can be good, as it produces meaningful debate and discussion that is necessary for the progression of a movement.
This panel was an informative discussion on the structural and political development of the Black Lives Matter movement, and the challenges facing the movement as it gains support and wider recognition on both a local and international level. Towards the end of the discussion, Greer said that the greatest thing about the Black Lives Matter movement is that, "try as they might, it is not going away… As long as police keep killing black people on a 24-hour basis, the movement is not going anywhere. The passion is not going anywhere."