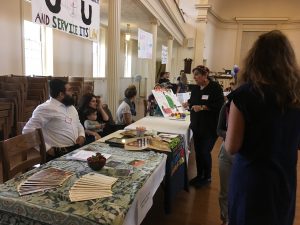 The Center for Religious and Spiritual Life organized a fair to help orient students and community members to what kinds of resources are available for religious community, spiritual exploration, interfaith interaction, and related activities at Smith. All were welcome to the open house event and guests were encouraged to browse tables, meet community spiritual leaders, do an art activity, and add to the Center's student banner.
Several community organizations were present at the fair, such as Art and Soul and First Churches of Northampton, as well as Community Religious Advisors Reverend Thomas Fisher and Rabbi Rhonda Shapiro-Rieser. The Wurtele Center for Work and Life, Jandon Center for Community Engagement, the Office of Disability Services; and several student organizations including Al Iman, the Smith College Jewish Community, and the Smith Christian Fellowship were also present at the fair. I had the chance to speak with leaders of the Muslim, Jewish, and Christian student organizations about their plans for the year.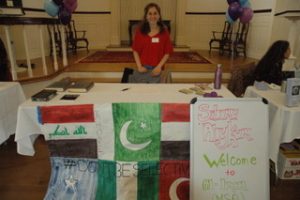 For the past couple of years, Al Iman has been focused on what it looks like to be a Muslim. Last year, Al Iman coordinated a project that put pictures up in the Campus Center of Muslim students, giving faces to a group often discussed with a negative light in the media. Al Iman hopes to continue projects like this one. In a world where so much of Islam is misunderstood, Outreach Chair Farah Samawi explained, "We want to demystify what Islam is and help to pull back the veil and reveal the compassionate nature of the religion." Another mission of the organization is to create a safe and equal space for Muslim students to express their spiritual feelings.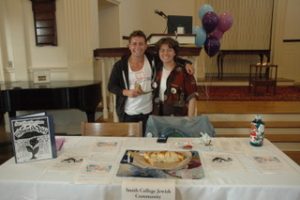 The Smith College Jewish Community (SCJC) shares a similar goal of creating a space for Jewish students on campus. Leaders Liel Green and Hunter Myers also stressed that all, Jewish or not, are welcome and encouraged to come to events.
"We want to provide a warm, welcoming, inclusive Jewish space," said Green.
Every Friday, SCJC will be organizing a Shabbat dinner at 5:30pm in the Kosher Kitchen behind Jordan House. SCJC invites all to join for home-cooked food, friends, and fun times (with challah)!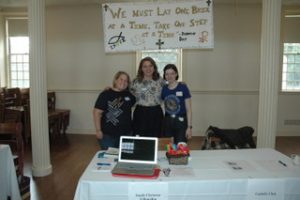 The mission of the Smith Christian Fellowship (SCF) this year is focused on seeing Smithies come to know Christ and grow in relationship with God.
"SCF is excited to really see God's presence on campus and where God is moving. We hope to make space for students to encounter God, investigate Christianity, and grow in their faith," said SCF President Lacey Harvey.
The SCF Ice Cream Social took place this past Saturday September 16 at 7pm in the CC Carroll Room. Over 200 students stopped by to explore Christian community or just enjoy some free ice cream. SCF is also organizing a fall conference for students October 13-15 where Smithies are able to join Western New England College and University students in encountering Jesus and enjoying a fun getaway!