Here at the Center for Religious & Spiritual Life, we think it's important to offer programming for students who are atheist or nonreligious. That may sound counterintuitive, but in fact it's a vital part of what we do. When asked "Which religious, spiritual, or philosophical tradition do you practice or identify with?", 28% of students who responded said "None" and 18% said "Spiritual but do not identify with a religious tradition or group" (Enrolled Student Survey 2017). In other words, nearly half of Smith students don't identify with a specific faith. The secular programming we offer gives these students a chance to get in touch with their spiritual side.
One of the most popular such programs is Soup, Salad & Soul. Started in Spring 2010 by former Dean of Religious Life Jennifer Walters, this program has become a cornerstone of Religious & Spiritual Life. Every Friday during the semester, students (and occasionally faculty or staff members) gather in Bodman Lounge at noon to help themselves to the delicious soup and salad freshly cooked by our student chefs. Then everyone settles into a comfy chair and the discussion begins. Soup, Salad & Soul is facilitated by student volunteers, who come up with a topic and lead the discussion. According to Emma Livingston '20, "SSS is important because it offers a spiritual space that is open to people of all religious backgrounds, and all beliefs and opinions are welcomed."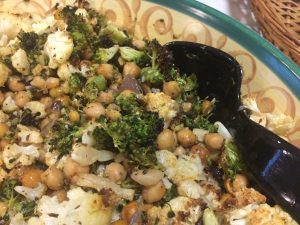 I attended SSS starting my sophomore year at Smith, in fall 2012; now, as a staff member, I train and support the student facilitators and make sure everything runs smoothly. I am continually moved by the students' insight, wisdom, and willingness to be vulnerable in front of peers and strangers. These students are digging into the meat of what it means to be a person in this world. They ask questions like "How do we show affection for one another, both in and outside of romantic relationships?", "What does it mean to forgive, and how and why do we do it?", "How do we cultivate joy and be present?", and "What is your favorite form of potatoes?" Their answers are unexpected, funny, painful, thoughtful, and unfailingly authentic.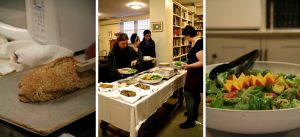 In the words of Miranda Catsambas '19, "Soup, Salad, & Soul is my church, my synagogue, my temple." Miranda and several other students attend faithfully each week; for them, SSS is tantamount to weekly religious services. Emma says it's "a place where I can engage in deep spiritual conversations." At a demanding, fast-paced institution like Smith College, SSS offers students a chance to slow down, look inwards, seek truth, and connect with one another in meaningful ways. "Through listening, contributing, and leading," says Shelby Kim '18, "I've grown a lot in my understanding of deep conversations and how to foster them."
Soup, Salad & Soul is not the only such program we offer:
Mindful Mondays: Sit, Eat and Talk With Us! is a weekly lunch program co-facilitated by CRSL Director Matilda Cantwell and Wurtele Center for Work and Life Director Jessica Bacal. Mindful Mondays offers free food, short contemplative exercises, and conversations about navigating the demands and rigor of Smith while sustaining a rich inner life. Each week, a different member of the staff or faculty offers a topic of importance for conversation.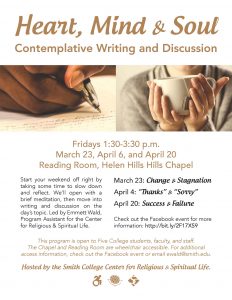 Heart, Mind & Soul: Contemplative Writing & Discussion is a new program facilitated by Emmett Wald, Program Assistant for CRSL. Inspired by the warmth and insight of SSS, Heart, Mind & Soul offers a brief meditation, brainstorming, writing prompts and freewriting time, and group discussion on topics like success and failure, gratitude, and change.
We also offer various one-time programs that give secular students a chance to work on cultivating a spiritual, reflective, or contemplative inner life. Students with a religious faith have a place to go for worship, meditation, and other contemplative practices; nonreligious students often struggle to find secular spaces that offer what religious spaces do. We endeavor to offer warm, welcoming spaces that are open to all, religious and nonreligious alike.