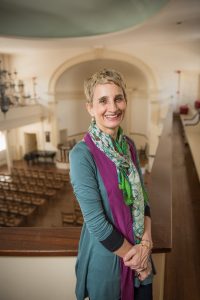 Dear Friends,
Now more than ever, even in secular New England at Smith College, religion matters. Eboo Patel, founder of the Interfaith Youth Core, says that the question of how people orient around religion or interact with one another, whether that be based on conflict or cooperation, will be one of the most engaging issues of the 21st century.
Patel says, "in an era riven with interfaith tension and crying out for positive engagement with religious difference, higher education's approach should be to embrace to religious diversity as it does all other kinds of identities, given its mission to 'nurture engaged and educated citizens for a pluralistic world.'"
Patel's statement mirrors many of the concepts of Smith's strategic plan, which prioritizes the ability to engage across difference and participate in the free exchange of ideas, and be stewards of the resources of the earth and the communities in which we live. Religious identity, spiritual searching, and that which people hold sacred are thus deeply embedded in the purview of a liberal arts education, even if the institution itself is based in secular values and a belief in science. The two things are not mutually exclusive, and religion cannot be ignored either in an institution of higher education or in the service of creating a just pluralistic society anywhere.
Patel's strategy with respect to religious difference, and suspicion about religion in general, is not to extinguish religious values but to harness them: "We will not save ourselves and the next generation of every faith by taming religious energy," he says, "but by emboldening it."
There are many students, and indeed many of us, who have become disillusioned with, or even hurt by, organized religion. Yet there are so many religious people working to reconcile religious practices with modernity, while mining the deepest riches of the tradition at the same time. Amina Wadud, speaker at February's Women in Islam Conference, encouraged Muslim students, and us in Religious & Spiritual Life, to "think outside the box" with respect to ways we practice in a college environment, in an effort not to stray from the traditions we grew up with, but to go deeper into what our faith—in this case Islam—has to offer with respect to the ever changing modalities of expression of human societies.
Here at Smith, students are engaging in interfaith dialogue and collaboration. Al Iman, Smith's Muslim student group, and the Smith College Jewish Community are intentionally gathering to eat together and get to know one another. The Interfaith Alliance and the Center for Religious & Spiritual Life Advisory Board are working on social issues such as immigrant rights and the right of refugees to settle and seek sanctuary. Al Iman is engaging with the local community, cooking and serving at Cathedral in the Night, an ecumenical outdoor church that serves individuals who are not housed or living on the streets.
The SCJC is reaching out to Jewish students across the political spectrum, creating a "wide tent" where Jews from all orientations can celebrate the Sabbath together, prepare for the high holidays together, and even combat anti-Semitism together, with Muslim, Christian, and non-religious allies. Our interfaith group stood in solidarity with young activists and lent their voices to the Smith Teach-In in solidarity with March for our Lives. Within the CRSL and in collaboration with the Office of Multicultural Affairs and the Smith Christian Fellowship, we have focused creating opportunities for spiritual flourishing for students; black students in particular, starting a collaborative worship services in the African American spiritual tradition officiated by clergy and members of the Alden Baptist Church based in Springfield, and providing transportation to historically black and Hispanic churches which are located outside the immediate purview of Northampton.
Eboo Patel says college is the place where creeds are in intimate contact, and hence in conflict or collaboration. All creeds, and all orientations, matter, as well as, and sometimes especially, the searching, the confused, and the intersectional. All this diversity serves the institution in its goals of creating individuals who can live and navigate and create collaboration across difference.
The word "religion" comes from the Latin word religio, which has in turn its root in ligare, or ligament, and means simply—to bind together. Religion as we know it is groups of people organizing around what they hold to be sacred; creeds and belief systems and practices are what unfold from that.
So let us be bound together, in compassion, justice, the worth and dignity of all people (and animals!), stewardship of the earth—all that is sacred across religions—with the courage to meet each other not in spite of our differences, but because of them. Despite the supposed decline in religiosity among Millennials, our students are doing just this.
Keep in touch as we continue to fine-tune our mission, engage a greater diversity of advisors and liaisons to work with our Center, and offer more religious services at various locations on campus. Best wishes for the gradual end of our New England winter, through what in the Christian tradition is called "Lent," which means a lengthening of the days, hope for spring, and for that which is yet unknown, to arrive.
With warmth,



Matilda Rose Cantwell
Director of Religious and Spiritual Life, College Chaplain
mcantwel@smith.edu