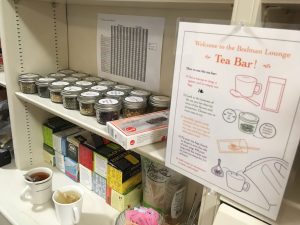 Students who visit Helen Hills Hills Chapel often may have noticed some changes to the Bodman Lounge in the past year: books moving around, a new houseplant, the piano left to make way for more seating, mugs and glasses migrating into the corner… There's now a new feature of Bodman, just in time for Reading Period—a tea bar!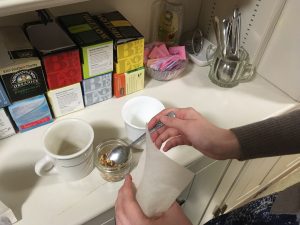 The tea bar offers the expected boxes of Bigelow and Celestial Seasonings teas, sugar, and honey. But there's also a selection of loose leaf herbal teas: Tulsi, Yerba Mate, Licorice Root, Rooibos, Chamomile, and more. Each tea is labeled with a description of its flavor and medicinal properties, so you can choose a tea (or make a blend) to suit your tastes or needs. Come by and check it out!
Bodman Lounge and the rest of the Chapel will be open and available for students to study, pray, reflect, write, or even cook or bake during Reading Period. All are welcome!
---
Cooking and baking in the Chapel kitchen require a space reservation. If you would like to reserve the Chapel kitchen, contact kalston@smith.edu or mraucher@smith.edu.