Jill Ker Conway, the seventh president of Smith College, died a few weeks ago on 1 June 2018. She has been fondly remembered by many others, and I will not attempt to offer an additional obituary or recollection of her life. Instead, I would like to offer what may be a unique remembrance of Jill Ker Conway: audio recordings from the day of her inauguration to the Smith College presidency.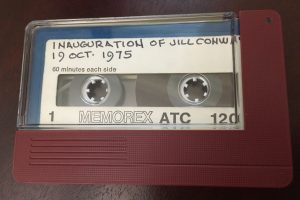 I found this cassette, along with many others, in a box collecting dust in the storage area of the Center for Religious and Spiritual Life. There are probably several more gems to be discovered; however, having eagerly read Ker Conway's memoir The Road from Coorain (a high school graduation gift from my father) the summer before my first year at Smith, I was immediately drawn to the tape of her inauguration. The folks in the Center for Media Production generously digitized the audiocassette for me.
Jill Ker Conway was the seventh president of Smith College, but the first woman to hold the office; her inauguration also marked the college's centennial, an occasion that was remarked upon in the speeches made during the ceremonies on 19 October 1975. There are two recordings: the first is a curated selection from the ecumenical service held in the morning on the day of her inauguration, and the second is the afternoon inauguration ceremony in its entirety. The recordings were made and curated by the late Dick Unsworth, then the Chaplain of Smith College.
Jill's speech during the inauguration ceremony (starts at 25:29) reminded me of why I was initially drawn to her when I read her memoir: warm, witty, and intellectual, her speech is full of scholastic and personal substance, not only resonating as a piece of history but also holding relevance today.
She discusses the historical development of the role of college president, then explores the role of women's institutions, remarking on the ways in which modernization has been hostile to women. Women's colleges, she says, are one of the last remaining enclaves of women's collective life in Western society. She reviews the previous six presidents of Smith College, their views of Smith's role in women's lives, and the ways Smith had not yet met the needs of it students and alumnae in our society. She closes with a reference to Virginia Woolf's mythical sister of Shakespeare, and the goal that Smith should help advance the role of women in society so that the intellectual rigor of college can truly resound through the rest of their lives.
Jill's speech resonates with the ideals that guided her presidency, and it's clear why she was such a beloved leader of the college. I hope you enjoy this look into the past of Smith College and the beginning of Jill Ker Conway's remarkable time here.
There will be a memorial service for Jill Ker Conway at Helen Hills Hills Chapel on Thursday, October 18—keep an eye on our website and Facebook for more information.
---
Note: The links below are to mp3 files hosted on Google Drive. These files are accessible to anyone in or outside the Smith community. You can listen to them in your browser, or download them to your computer. You may get a warning that the files are too big to scan for viruses; I promise they're both clean!
---
Ecumenical Service (42min)
0:00 – Introduction – Dick Unsworth
1:10 – Reading of "No Religion Is an Island" by Abraham Joshua Heschel
3:29 – Reading from Job 28:12-28
5:31 – Reading from St. Paul to the Ephesians 4:1-7, 11-16
7:58 – Sermon about modern intellectualism
31:38 – Benjamin Britten piece (?) – First-Year Chorus
35:40 – "Anthem of Praise" (Richard Smallwood) – First-Year Chorus
39:40 – Closing Benediction
---
Inauguration (59min)
0:00 – "Pueri Hebraeorum" (Randall Thompson) – Smith choirs
2:34 – Trustee welcome, Investiture – Virginia Dougherty Glover '43
5:42 – Brief acceptance speech – Jill Ker Conway
7:08 – Faculty welcome
8:30 – Student welcome
10:19 – Alumnae welcome
13:06 – Speech – Univ. of Toronto President
22:14 – "God of Our Fathers" – Smith choirs
25:29 – Speech – Jill Ker Conway
54:29 – "Gaudeamus Igitur" – assembly
57:13 – Benediction
57:41 – Closing – Sheriff of Hampshire County
58:19 – Recessional – UMass Amherst band
---
I intend to search the Archives for a program from these events so that I can more specifically attribute the speakers and musical pieces. If you can identify any of the readers, speakers, or music, please email me!
Thanks to Dale Gordon, Nancy Cline, and Jennie Simmons for their help in identifying the choirs and some of the musical pieces.