This article represents reflections from Maeve Orlowski-Scherer '21, a student intern and leader in the Center for Religious and Spiritual Life.
By 5:30 p.m., everything was ready. The chairs had been pushed back to the sides of the Helen Hills Hills Chapel Sanctuary, replaced by small round tables cluttered with craft material, and the walls were decorated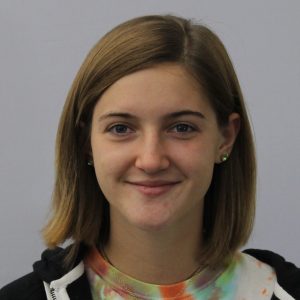 with streamers and tinsel in addition to the CRSL theme "Reflect, Resist, Rejuvenate." A banner spelled out in glitter letters "BEST DAY EVER" over the entrance doorway. The last-minute decision to switch from one playlist to another was made, amidst much friendly debate. The party kicked off at around 6:00 p.m., with students filtering in, grabbing a name tag and a slice of pizza.  Some were first years, some seniors; some were affiliated with religious organizations on campus, and some were not.
Emma Walker 21' does not ascribe to any faith tradition, but she still decided to come to the party when she saw a flyer around campus. The CRSL, for her, is a place for community and spirituality, a space on campus where she can make connections and be open about her own brand of faith. "By having a welcome party," she said, "the space becomes a home and I felt an inherent sense of community for people who I might not have otherwise reached out to. It brings people together." She went on to say that the building itself is beautiful, but being a chapel, might cause people to think that the CRSL is a Christian space. She was glad that the party was a truly interfaith event. "Even though I'm not religious I had a place there, to explore and learn from others…there was no pressure to fit into a certain category or even know a lot about any religious tradition," she said.
Music played over the loudspeaker as Smithies gathered around tables to talk interfaith activism, swap stories of how coming to Smith has affected their spiritual life, and do arts and crafts; t-shirts were made, notebooks were decorated, and plenty of glitter was used.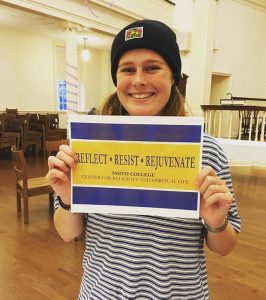 There was ice cream and pizza and a general mood that the tensions and anxieties of everyday life at Smith were left at the door; this was a time to chill out and build community with other people on campus. Shanelle Whyte '21, who works for the CRSL as an intern and is also affiliated with the Smith Christian Fellowship, said, "I liked that the atmosphere was set for community, that people wanted to get to know each other. The stations were really fun and got conversations flowing." Conversation flowed smoothly between people who were virtual strangers; a grounding in spirituality and faith made it easy to make connections.
About halfway through the night, CRSL Director and College Chaplain  Matilda Rose Cantwell grabbed the microphone for a round of introductions; staff and student leaders alike stood up at the front of the Chapel and introduced themselves; there were representatives from Al-Iman, Smith's Muslim student group, Smith College Jewish Community, the Catholic Club, and others. When asked what they liked best about the CRSL, one student commented on the CRSL's commitment to the values of the students themselves. Nowhere else on campus did so much to listen, and then support, the voices of students.
An impromptu game of full-body rock-paper-scissors rounded out the night. As student interns and kind volunteers cleaned up, others lingered long after the music had been turned off and the ice cream cleaned up. There was chatter about an Al-Iman and SCJC joint event, and many admiring compliments for beautifully decorated notebooks. Leftover pizza and ice cream was distributed as people went back to their houses or straight to the library. Slowly, the Chapel turned back into the quiet, reflective place it usually is. But even though the party might be over, the community it fostered is still only in its beginning stages. Bringing people together was the first step; the next is seeing what they can do.