In order to tell my story of student teaching at Campus School, I have to set the scene: my dorm room this year is unlike any other. I am often surprised to find out that other people don't have a desk covered in sentence strips or a bedside table stacked with Because of Winn-Dixie, several random picture books, and a pile of cursive handwriting notebooks. What do you mean your floor isn't scattered with copies of a comic about the rules of comma usage, a handful of die-cut letters, and a handmade book called ¡Yo Soy Viscacha! (a Spanish-language nonfiction story about the Atacama-desert-dwelling rodent)?
My busy dorm room is a testament to the value of integrating my work as a teacher into my life as a student. Throughout my time at Smith College, teaching and learning have been two strings on the same loom; now, through my work at Campus School, I begin weaving them together with confidence and poise. As I spend the semester in Group 4A with Tiphareth Ananda and sixteen phenomenal students, I add stitches to the tapestry daily. Working on my learning as an undergraduate student while simultaneously formulating my own teaching practice unlocks unprecedented growth.
As a student teacher, I have an especially unique perspective on the relationship between teaching and learning: in my fourth grade classroom, I am a teacher who is learning, but in my college classrooms, I am a student who is teaching. As a result, I have discovered how truthfully teaching means learning, and learning means teaching.
Unbeknownst to them, my fourth graders teach me something meaningful every day. Together, we discover the best ways to establish classroom norms, conduct respectful discussions, and strategize about math. We also learn a lot about how to laugh together! Lately, I've felt honored to play a crocodile in the "swamp" beneath the play structure during games of monkey tag. In this way, teaching and receiving feedback from my students is an invaluable part of my learning process. I am constantly refreshing my ideas about the personalities in my classroom and the most effective ways for us to learn together.
Simultaneously, I bring my experiences in the classroom outward to share with my peers. As the cohort of student teachers gathers, we exchange advice based on our practice. "I'm having a lot of trouble managing a small group," admits one of the teachers during our Tuesday afternoon seminar. Immediately, hands fly up to offer support; the teachers sign "same idea" in true Campus School style across the circle in agreement. While generating a network of emerging teachers, classes in education also help us strengthen our connections between theory and practice. We produce academic writing that reflects both pedagogical theory and learned experience, expanding the depth of knowledge and resources that we can return to our students at the Campus School.
Throughout the semester, I have become a more reflective and intentional teacher. I scrutinize my lessons, always seeking to better serve a classroom of diverse learners. I find solutions to problems and adapt to unknowns with increasing ease. I stare down the math curriculum, waiting for the lesson-planning epiphany that will make multiplication more interesting. Meanwhile, the benefits seep into my life outside of the fourth grade, allowing me to gain insight into my own learning: I observe in my own life, as I do in my classroom, that, like my students, I also benefit from a motor break or a new pencil.
My final thought about mixing teaching and learning at Smith is simple, but I actually think it is critically important: student teaching is a lot of fun, and it brings great joy to my life at Smith. Sitting in class after a morning at Campus School, I find myself smiling. There's enough humor in Group A to put every comedian out of a job. I arrive to dinner in the dining hall and rejoice in my friends' questioning about the lesson I'd given that day. CSSC has become a comforting corner of my campus community and an inextricable thread through my life at Smith.
Classmates in an art history seminar are surprised when, while searching for my notebook in an art history seminar, my classmates are surprised when I unearth from my backpack a roll of washi tape printed with cute corgi dogs from my backpack.
"It's for my kids," I explain with a laugh: I'm glad it's in there. Just in case it might bring my students some of the joy that they share with me, unwittingly, every single day.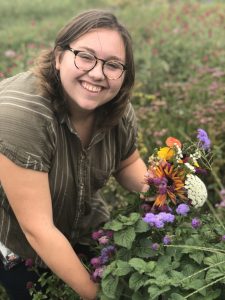 About Libby:
Libby will graduate from Smith College in May 2020 with a BA in Education and Child Study and Art History, as well as her Massachusetts state elementary teaching license. She is a museum educator, teacher, prospective graduate student, and perpetual learner. She hopes to embark on a career in arts education, ever delighting in the connections that children make with art.
Written by Libby Keller