Now a senior in high school, CS alum Eli Kramer '14 returned to campus for the Fall 2019 Open House to share his reflections with prospective families. His words appear below, verbatim.
When I was first asked to talk about my time at Campus School, I instantly agreed. It had been a great time in my life. But then, when it came time to actually think about what I would say, I felt stuck. As a senior in high school now, it's been a while since elementary school, and I wasn't sure how much I remembered or what I had [that was] worth sharing at this point.
As I was running through those years in my head, though, I began to realize that, while I left the Campus School over five years ago, it [is] still impacting me. Not consciously, necessarily. I haven't been actively reminiscing about second grade for the last five years, but my time here has definitely informed both who I am in the classroom, and socially.
My family moved to Northampton from Ohio when I was seven, the summer before second grade. I didn't know anyone at school, and they all seemed to know each other. But that didn't prove to be an issue. I felt quickly welcomed in by my classmates, teachers, and everyone in the school. In a few weeks, it felt just as comfortable, if not more, than my school in Ohio had.
That sense of community stuck with me, and I really think that it can be traced all the way through my time at the Campus School. From the Medieval banquet, to capture the flag, to learning about countries around the world, to computer programming (albeit very basic), to a wide range of songs we learned and sang together, to studying civil rights, to the film festival we made, to even just running around the play structure. My time at the Campus School was rooted in the value of community. Both of our own community in the school, and in learning about and appreciating other communities, as well as the larger community around us.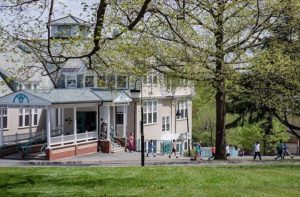 That value of community has had a lasting impact on me. The importance of community which the Campus School instilled in us has led me to stay close with many of my friends from elementary school, despite our going on to a wide range of schools.
Not only did we have a strong social community, but we also had a strong academic community. You had a group of kids who, however much 10 year olds can be, were deeply invested in learning. We all wanted to be there. Luckily we were matched with a group of teachers who shared and encouraged those values, making classrooms where we could explore academically, all from the safety of our strong community.
So while initially I wasn't sure the Campus School was still in my life at all, it clearly has been. As a senior in high school, having a strong foundation academically and socially has allowed me to enjoy and get the most out of my time at Northampton High School. As I look at colleges, I'm noticing how interested I am in things which were introduced and valued at the Campus School. I've been able to start my own small business, creating films and music for local organizations. I was recently hired to make a promotional video for the Hitchcock Center for the Environment, and after thinking, that interest traces back to my time at the Campus School, where we studied music, and technology, and the environment.
The more I think about the Campus School, I'm realizing how much it seems to match what I want out of a college, as goofy as that might sound. So I guess my point is that elementary school, though it was a long time ago, really leaves a lasting influence. I'm glad that my influence came from here.
Written by Eli Kramer '14