Kicking off Family Weekend, the CRSL hosted a tea on Friday October 13th 2:30-4pm for contemplative practice, as well as to welcome questions from students and parents about CRSL.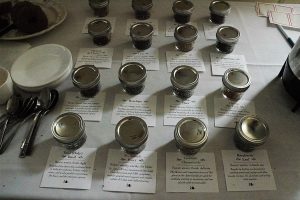 Director Matilda Cantwell opened the program by lighting three candles in the center of the circle of chairs. The first candle represented something for you to offer for yourself, the second candle represented something for you to offer for someone else, and the third candle represented something for you to offer to the world. Cantwell explained the purpose of the time was to build a "sanctuary" in light of current events in the world; including an unprecedented number of natural disasters this fall.
The group then practiced mindfulness and went into a time of meditation. Cantwell lead the time in meditation calling for the members in the group to notice their thoughts and to give a holy space between their thoughts and experiences.
After the meditation, Program Assistant Emmett Wald '15 read aloud the following poem.
Allow
By Dana Faulds
There is no controlling life.
Try corralling a lightning bolt,
Containing a tornado. Dam a
Stream and it will create a new
Channel. Resist, and the tide
Will sweep you off your feet. Allow,
and grace will carry
You to higher ground. The only
Safety lies in letting it all in-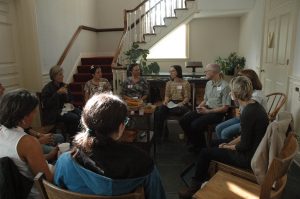 The wild and the weak; fear,
Fantasies, failures and success.
When loss rips off the doors of
The heart, or sadness veils your
Vision with despair, practice
Becomes simply bearing the truth.
In the choice to let go of your
Known way of being, the whole
World is revealed in your new eyes
After discussing the poem and reflecting on the time of meditation, the tea concluded with a question and answer session.