One of the many benefits of teaching in a lab school is the opportunity teachers have to be learners– not only in informal ways within their classrooms, but also in more formal ways through professional development opportunities  at school, conferences and workshops, and courses taught at Smith College. Joining Campus School this year as Assistant Head of School, I was fortunate to be invited to sit in on Professor Joel S. Kaminsky's Religion course: "Why do the Innocent Suffer?" And, as a former Smith College religion major, I relished this chance to immerse myself once again in the readings and discussions that are involved in f reflective, analytical courses dealing with  "big" questions.
As the fall progressed, and I spent my weeks in the classrooms of Campus School as well as Smith College, many parallels began to emerge. For example, I was reading material that was unfamiliar to me; In Professor Kaminsky's course, we took a deep dive into the book of Job and other biblical texts."Oh, this will be a snap," I thought. "I've read those." It did not take long for me to realize that my readings of the biblical books had been cursory at best. I had thought of Job as a story of anger against God and subsequent transformation, but I was fairly fuzzy on the details of how that transformation occurred. Weeks of in-depth readings, written by biblical scholars of different stripes (historians, linguists, and literary critics) showed me a much deeper side of these writings. We also read many contemporary retellings of Job, and here were historical roots I had not known about, new theological and linguistic aspects to consider. Scholars had spent years debating the meaning of a single word or phrase. It was not "a snap."
In third grade here at Campus School, I witnessed third graders listening to Stone Fox in a recent read-aloud. This beloved classic is one that might make some children say to themselves, as I said about Job, "Oh, I've read that. No problem!" The thoughtful discussions that the third grade classes had about John Reynolds Gardiner's novel, however, challenged their previous ideas about the book. Robust discussions took place, grounded in complex questions: Why did Willy's grandfather give up on living and just lie in bed? Did Willy do the right thing in entering a professional sled dog race with his pet, Searchlight?
Much like the exercises and discussions Smith students and I engaged in during our religion course with Professor Kaminsky, third graders delved deeply into the story, analyzing characters and motives.They, too, looked carefully at language and meaning, and wrestled with big questions. Professor Kominsky's course focused on biblical texts that question whether God consistently rewards the righteous and punishes the wicked. Third graders handled the same issue: Will Willy and Searchlight (the righteous) prevail against Stone Fox? Their conversations were equally impassioned.
Midway through our Campus School fall term, we were treated to a school visit by Bryan Collier, renowned children's book author and illustrator. Collier, a four time winner of the Caldecott Medal as well as the Coretta Scott King Award, met with each grade in turn, as well as with parents and guests. The children were entranced as he read Uptown and Trombone Shorty aloud, telling them where he got the ideas for his stories and incredible artwork. He showed the students original collages and described the hours and days he spends on each page.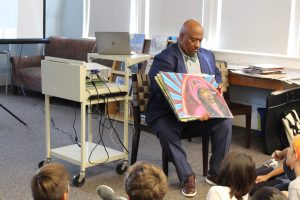 Soon after this visit, I was treated to another guest author's appearance: Edward Greenstein, Professor and Meiser Chair in Biblical Studies at Bar-Ilan University in Israel, who came to speak in our Smith  religion class. This was a real coup: his book, Job: A New Translation had just been released days before with Yale University Press. He spoke to us about the decades that he spent translating Job in a new yet rooted way. He took us on a translator's journey through single passages and phrases and showed us some of the painstaking historical work he had done. It was a thrill to have him in class, and I imagine that Smith students felt, just as Campus School students felt, a sense of awe to be in the presence of such a creative thinker and writer. I certainly did.
When it comes to the teaching of writing, I am fortunate to watch young writers grow every day at the Campus School. Fifth graders recently completed research papers on topics related to their studies of Medieval times, such as falconry, feudalism, and cathedrals; third graders continued reading response journals about Stone Fox, while kindergartners practiced making upper case letters with chalk and crayon. Students are engaged in every aspect of the writing process, at all grade levels: forming their own ideas, planning, drafting, sharing their work, getting feedback, and rewriting.
I saw this same process at work in my religion course, where Professor Kaminsky had us share our essays in draft form. Using Google docs (just as we do in grades 5 and 6 in the Campus School), students commented on each others' ideas and execution. In class, students would bravely share a draft, and the group would give feedback. Professor Kaminsky always framed these sessions with encouragement: "This is what scholars do. We seek feedback on our writing and articles. We want to hear the good and the bad, so we can make our work better. This is a good process, so get used to it." Teachers at the Campus School use similar language when preparing students to share and listen to each others' writing: "Listen to your classmates' stories carefully and tell them what you liked. Then tell them what you didn't understand or what you have questions about."
Reflection and revision are embraced on both sides of Elm Street.
It was a unique experience to be with Smith College students in their course at the same time that I was in classrooms at the Campus School. The parallels were plentiful. I realized that we are training young students here at the Campus School to be strong readers and writers, to appreciate those who make their living in the land of letters, and to be compassionate listeners. These young students will someday be in college courses, adding their own sparks to the conversation with a wealth of preparation behind them.
The two sides of Elm Street are not so very far apart after all.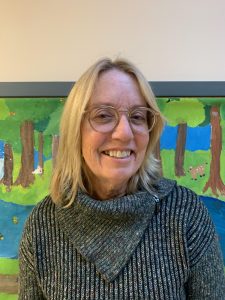 About Lulu: Lulu Kellogg is the Assistant Head of the Campus School. She received her Bachelors and Masters of Education degrees from Smith College, a Master of Arts from Lancaster Theological Seminary, and is a graduate of the University of Connecticut School of Law. She has taught English, third grade, and served as a Division Head at Renbrook School in West Hartford, and was Middle School Head at the Fessenden School in West Newton before coming to the Campus School last summer. She has enjoyed coming back to her "roots" at both the Campus School and Smith College.
Written by Lulu Kellogg