The Five College Libraries will migrate back-end system operations from the current library system (ALEPH) to FOLIO at the end of June 2022. FOLIO (The Future Of Libraries Is Open) is a collaboration of libraries, developers and vendors building an open source library services platform that supports traditional resource management functionality while also opening the door for innovation in an increasingly digital world. We are excited about the opportunities this future-looking system will provide.
This transition will temporarily affect a number of library services. Please see transition timeline below: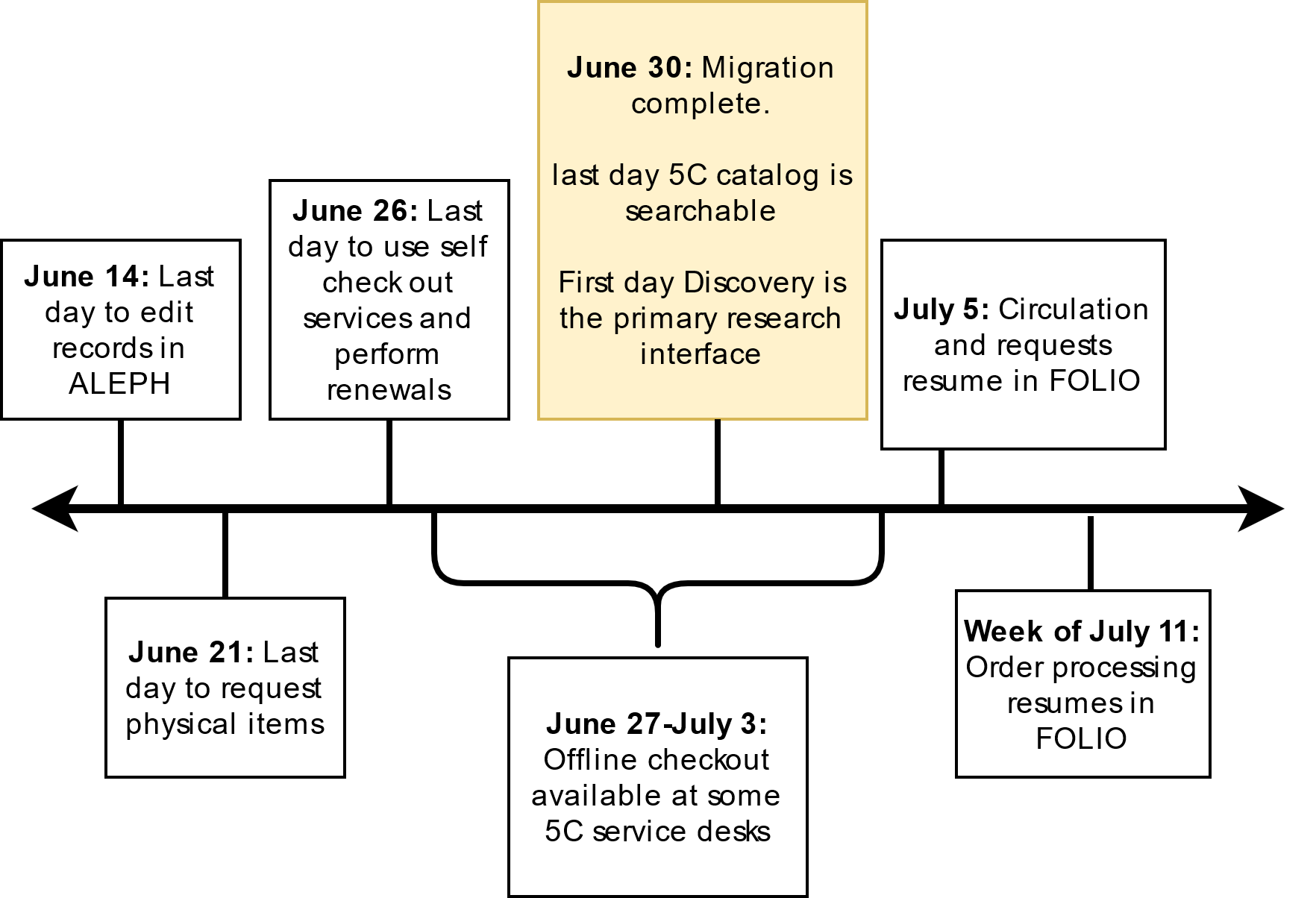 June 14: Last day to edit records in ALEPH
June 21: Last day to request physical items from any of the Five College Libraries for pickup at your own institution before requesting is paused across the consortium. Requests will resume on July 5.
June 26: Last day to use self-checkout kiosks, the Smith Libraries Self Checkout app, renew materials, and to make patron record changes in ALEPH; We will resume on July 5. Some libraries will offer offline circulation between June 27 – July 3. Please note that library item available statuses will not be updated in Discover during this time.
June 30: Migration from ALEPH to FOLIO is complete. Final systems checks performed.
June 30: last day the Five College Catalog will be searchable.
June 30: First day for Discovery as the primary research interface. There could be intermittent outages.
July 5: Circulation of physical materials, requests, and patron record changes resume. Records are editable in FOLIO.
Week of July 11th: Order processing resumes in FOLIO.
In the process of adopting FOLIO, the Five Colleges Libraries will be retiring the separate Five Colleges Libraries Catalog search interface. The Five College Libraries will be consolidating the discovery and access of library materials in our Discover catalog search. Discover is a reliable interface that has been in use at the Five Colleges since 2012, and it will continue to include all of the records held in the retiring Five Colleges Libraries catalog as well as from most of our subject-specific databases. Additional tools that enable users to request items and manage their accounts within Discover will also be implemented at the time of migration, streamlining the request process and allowing for increased functionality (you'll be able to see where you are in the request queue for an item!).
Library Databases, Publication Finder, streaming video and ebooks will remain available throughout the migration. We anticipate that Discover will also continue to be available, but there may be brief periods of downtime. Permalinks from the Five College Catalog and Discover Advanced Search may no longer work after the transition.
Staff across the consortia will be working to make this as smooth a transition as possible. Keep an eye on FCLIB FOLIO emails, Five College FOLIO Slack announcements, and your local institutions websites for the most up to date information.
More details about the FOLIO transition can be found in: