Project
In this project, students translate Youtube videos created by Japanese college students and upload the English translations and captions to the videos on Youtube.
This project provides students with different learning experiences from translating texts.  For example, the translation needs to be synchronized with the video clips in terms of timing, length of the sentence, choice of expressions.  It also needs to be comprehensible for public audiences who are not necessarily knowledgeable about Japan or Japanese culture.  Students apply their knowledge of Japanese language and culture to translation, using their creativity to make the best possible translation of the videos for their target audiences.  
One of the most interesting and exciting parts of this project is that students can broadcast their contributions to the public online.  It is a good way of being aware of the audience when translating, as well as practicing public scholarship.  
Goals:
Develop basic skills in translating videos (e.g., transcribing videos, using technology to add captions).

Analyze the differences between the languages and cultures, as well as take the target audience into consideration when translating.

Learn about copyright and ownership when translating videos online.  

Practice and experience public scholarship.
Structure – emphasizing social constructivism
Students choose one video clip created by students from the Department of Information and Media at the Official YouTube Channel of Doshisha Women's College of Liberal Arts (DWC). Work in pairs on one video clip.  Create transcription of the video, two drafts of the translation, and one final version.  Present the drafts during in-class peer review sessions (one in the midterm, one in the later in the semester) before finalizing. Upload the translation to the video on Youtube.
Interviewing the creators: Starting from the fall 2018, JPN350 and the students who created the video at DWC met over the Zoom video conferencing platform and exchanged their questions and comments for video translations.  Students incorporated the experience from the meeting in their translations.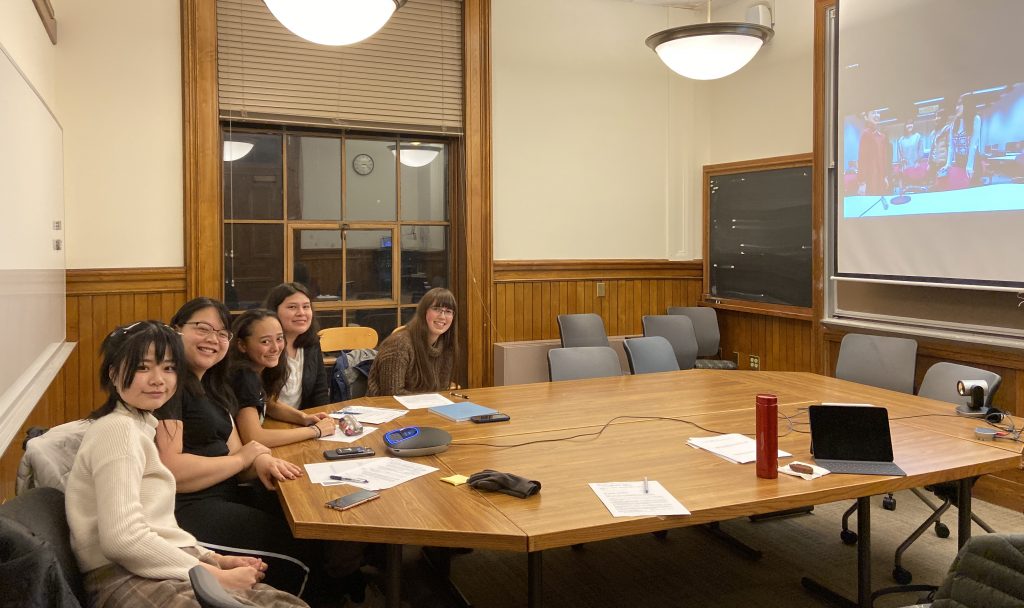 Final Product
Publish. Upload to YouTube and create a product page on the WordPress website (English).  Students give their final presentations in class (Japanese), as well as write individual final papers (Japanese) about their projects.
---
About the videos
Sophomore students from a seminar course led by Professor Koichi Mori, the Department of Information and Media at Doshisha Women's College of Liberal Arts (Kyoto, Japan), created the videos for public service announcements (PSAs) and competed nationally.  The main focus of PSA video production is to help students develop the skills necessary to produce videos, as well as to apply their creativity when using media.  This hands-on experience will allow students to learn how creativity informs the video production process through to the end goal of making the videos available for the public.  All videos were submitted to the national PSA competition hosted by AC Japan, however, the purpose of entering the competition is not necessarily to win but to motivate students to contribute to society.
---
 JPN 350 Fall 2020 Cohort: a team to translate "Short film  さめざめと"
Ayumi Beeler '23, Quinn Bulkeley ' 21,  Sarah Ducharme '21, Yena Li' 21, Caitlin Ong '21, Eika Overton ' 23,  Ray Ren ' 21, Kerry Walker '21 (All Smith)
JPN 350 Fall 2019 Cohort:
Maddie Haines '20, Yining Hua '21, Lauren Light '23, Cindy Nguyen '20, Jennifer Rivera Montes '20, Sofia Trotta '23 (All Smith)
JPN 350 Fall 2018 Cohort:
Sichu Chang '21 (Smith), Mika Holz '22 (Smith), Qianxue Jin '2o (MHC), Sophie Nakamitsu Lennartsson '22 (Smith), Alissa Marcello '19 (MHC), EvaMarie Olson '19 (Smith).
JPN 350 Fall 2017 Cohort:
Yijia Cui '19, Eka Jabauri '19, Eunice Lee '18J, Ana Lester-Owens '18, Ku-Nung Lin '18, Elizabeth Nagy '18, Stephanie Orozco '18, and Elizabeth Pendlebury '18. (All Smith)
Project Partners at Smith College:
Atsuko Takahashi, Senior Lecturer, Department of East Asian Languages and Literatures

Mario Valdebenito Rodas, Instructional Technology Specialist, Educational Technology Services

Yasmin Chin Eisenhauer, Associate Director, Educational Technology Services
---
Doshisha Women's College of Liberal Arts (DWCLA) granted JPN350 permission to translate and caption videos produced by students from the Department of Information and Media. The video translation and caption work is a derivative work* of the original work. All copyright belongs to the original owners.
*Definition: "A derivative work is a work based on or derived from one or more already existing works. Common derivative works include translations, musical arrangements, motion picture versions of literary material or plays, art reproductions, abridgments, and condensations of preexisting works. Another common type of derivative work is a "new edition" of a preexisting work in which the editorial revisions, annotations, elaborations, or other modifications represent, as a whole, an original work." (source: www.copyright.gov/circs/circ14.pdf)
---