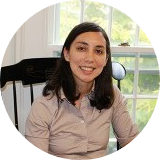 The 2020 winner of the Paula J. Giddings Best Article Award was granted to Maile Arvin, whose piece, "Indigenous Feminist Notes on Embodying Alliance against Settler Colonialism," was selected from Volume 18, Number 2.
Maile Arvin is an assistant professor of gender studies and history at the University of Utah in Salt Lake City, Utah. Her
teaching revolves around gender in the Pacific, indigenous studies, and intersectionality. Arvin is a member of the American Studies Association, the Pacific History Association, and the Native American Indigenous Studies Association. Her book Possessing Polynesians: The Science of Settler Colonial Whiteness in Hawai`i and Oceania (2019) explores the colonialist labelling of Polynesia as indigenous to a feminized and exoticized whiteness, as well as illuminates indigenous Polynesian resistance to this view.
Read more about Maile Arvin here.