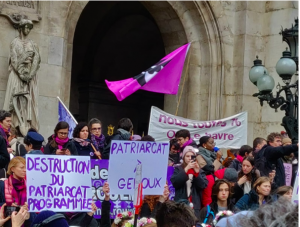 Photo credit: Women in and Beyond the Global
WOMEN INCLUDED
Other voices are surfacing to uphold women's rights and the right to live on the planet without fear. "Nous habitons tout.e.s la terre."
Une approche féministe transnationale offre une vue inclusive du monde transformant frontières et checkpoints en un monde d'alliance et de coopération. Pourquoi une alliance féministe transnationale est importante ? Une telle vision permet aux populations enfermées dans les inimitiés instrumentalisées par des politiques économiques de voir au-delà des séparations.
A transnational feminist approach transforms a world of borders and checkpoints into a world of alliances and cooperation. Why is a transnational feminist alliance important? Such a link makes people locked in enmity buttressed by economic politics to see beyond separation and otherness.
Nous utilisons l'écriture, l'art, la photographie et la poésie pour saisir les nuances subtiles qui existent dans les expériences d'exploitation des femmes et de privation de leurs droits. Nous pensons que les images et les mots s'entrecoupent/"s'intersectent », et mettent en lumière l'invisible, le mal écouté ou le jamais écouté. Les photographies de notre artiste plongent dans l'ombre et capturent les notions souvent difficiles à percevoir dans les discours et les silences des femmes. La poésie et les textes écrits par des poétes.ses et des écrivain.es de notre
organisation mettent en évidence les subtilités des interactions entre groupes dominants et colonisés, et attisent la mémoire culturelle afin que nous puissions donner un sens à notre présent.
We use writing, art, photography, and poetry to capture the subtle nuances in women's experiences of exploitation and deprivation of rights. We believe that images and words intersect and highlight the invisible and misheard or unheard. Photographs of women taken by our photographer delve into the hidden and capture the often hard to perceive notions in women's speech and silence. Poetry and text written by poets and writers in our organization make visible the subtleties in the interactions between dominant and colonized groups, and stoke cultural memories so we can make sense of our present.
Read more about the work of Women Included here.